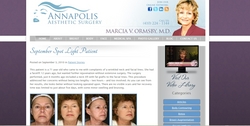 Annapolis, MD (Vocus) October 1, 2010
Dr. Marcia V. Ormsby, a plastic surgeon in Annapolis, is announcing the launch of an innovative website to support her exacting and artistic approach that she has implemented with her practice to ensure that all the needs of her patients are met. This interactive website provides online visitors with a comprehensive overview of Dr. Ormsby's Annapolis Aesthetic Surgery, as well as detailed descriptions of all surgical and non-invasive cosmetic procedures available, a doctor biography, and testimonials from patients who have received an array of procedures, including chin implants and breast augmentation in Annapolis.
Incorporating an artistic perspective when performing cosmetic enhancement procedures such as a browlift or rhinoplasty in Annapolis, Dr. Ormsby says she is personally attentive to the needs of the patient during the entire process, from pre-operative consultations to post-operative recovery. In collaboration with the medical website design team at Rosemont Media™, Dr. Ormsby has incorporated numerous interactive options to heighten the virtual, on-line educational experience, along with the ability to connect to her social media community. Dr. Ormsby says she is most proud of her newly certified surgical suite, where, in the privacy of her office, she operates using the latest equipment for safety and the best outcome possible. By enhancing each patient's initial impression of her practice during the research phase of plastic surgery procedures, such as body contouring and facelift in Annapolis, Dr. Ormsby says she hopes to convey her unique style and extensive expertise, as well as the artistic approach that is the foundation of Annapolis Aesthetic Surgery.
About Dr. Ormsby:
Dr. Marcia V. Ormsby earned her medical degree from the University of Massachusetts. Following the completion of her general surgery training at the State University of New York, she completed an extensive plastic surgery specialty fellowship at New York Hospital, Cornell Medical Center and Memorial Sloan Kettering Cancer Center, both in New York City. She is an active lobbyist for issues concerning women's health, as well as a published writer and national speaker. Dr. Ormsby is also an active member of the American Academy of Cosmetic Surgery, the John Staige Davis Society of the Plastic Surgeons of Maryland, American Medical Women's Association, and the Association of Women Surgeons. Dr. Ormsby has proudly served her community for over 20 years through her privileged medical staff membership at Anne Arundel Medical Center.
Dr. Ormsby and her Annapolis Aesthetic Surgery practice can be found at 116 Defense Hwy., Suite 500 in Annapolis, MD 21401, and can be reached at (410) 224-1144 or http://www.aasurgery.com/
###