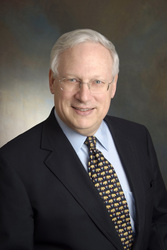 As clinical medicine and surgery evolves at a breathtaking pace, the collaborative role of physician assistants must be broadly accepted as a critical link in the achievement of public goals relating to quality, cost and access
Berkeley Heights, NJ (Vocus) October 6, 2010
William A. Tansey, III, M.D., F.A.C.C., cardiologist with Summit Medical Group (SMG), has won the Outstanding Physician of the Year Award from the New Jersey State Society of Physician Assistants (NJSSPA).
Physician assistants (PAs) work closely with physicians to enhance patient care and increase patient satisfaction. Dr. Tansey's exemplary partnership with PAs has earned him this recognition. He serves as a mentor to the PA profession, educating others on their role and mission to increase access to quality, cost effective health care.
"As clinical medicine and surgery evolves at a breathtaking pace, the collaborative role of physician assistants must be broadly accepted as a critical link in the achievement of public goals relating to quality, cost and access," states Dr. Tansey. "I have been personally blessed in my association with very capable physician assistants and am, therefore, especially honored to accept this award."
Dr. Tansey was honored at an awards ceremony, October 6, 2010, at the Westin Forrestal Village, Princeton, N.J., in recognition of Physician Assistant Week.
ABOUT NJSSPA
NJSSPA is the organization representing members of the physician assistant profession in New Jersey. Physician assistants are highly trained clinicians who are hard at work improving the health of the people of New Jersey. NJSSPA's vision is to be recognized and respected by the healthcare community and the public as the prominent physician assistant state organization. The organization is dedicated to promoting education, advocacy and partnership to achieve quality, cost-effective healthcare.
ABOUT SUMMIT MEDICAL GROUP
Summit Medical Group (SMG) is the largest privately held multispecialty medical practice in New Jersey. SMG has pioneered information technology advances in health care with its early adoption of electronic health records and e-prescribing. With more than 200 highly qualified providers, it serves as a unique health care model for the state. SMG treats more than 55,000 patients per month at its main campus in Berkeley Heights as well as its satellites in Berkeley Heights, Morristown, Millburn, Shorts Hills, Summit, Warren, and Westfield. As one of the East Coast's premier multispecialty groups, SMG has provided exceptional primary and specialty care since 1929. For more information, please visit http://www.summitmedicalgroup.com.
# # #