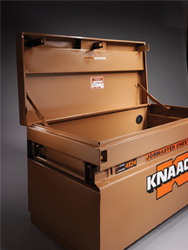 We are pleased to offer our end users improved protection for their investment in KNAACK® jobsite products
Crystal Lake, IL (PRWEB) October 4, 2010
KNAACK® Jobsite storage products are now manufactured using an exclusive, new powder paint process, offering several distinct advantages and benefits as compared to its previous liquid enamel paint. The new powder paint process, which now covers the entire line of KNAACK® jobsite products, offers end users improved corrosion resistance, abrasion resistance, scratch resistance, and paint film thickness. The following table summarizes these advantages:
Powder Paint Improvement from Enamel:
Corrosion resistance 5X
Abrasion resistance 2.5X
Scratch resistance 2X
Paint Film thickness 4X
The testing on this improvement used methods defined by ASTM International (ASTM), originally known as the American Society for Testing and Materials. The ASTM is a standards organization that develops and publishes voluntary consensus technical standards for a wide range of materials, products, systems, and services.
"We are pleased to offer our end users improved protection for their investment in KNAACK® jobsite products," said Bill Zbylut, VP marketing of Knaack LLC. "Knaack is always looking for ways to continually enhance product performance, and our new powder paint process is another example of KNAACK® leadership. We now offer an advanced solution to contractors who want and expect excellent resistance to corrosion, abrasion and scratching."
The new KNAACK® powder paint program extends to the Custom Color Paint Program announced this past March. This program offers contractors the opportunity to customize the paint finish on KNAACK® jobsite products.
About KNAACK® and WEATHER GUARD® Brands
Knaack LLC, a division of EMERSON Professional Tools, also manufactures and markets a complete line of WEATHER GUARD® truck and van equipment, including drawer units, shelving and cabinets, and racks for full size and compact pickups, vans and utility vehicles, as well as KNAACK® jobsite storage equipment, including storage chests, work stations, rolling work benches and hand tool boxes.
About EMERSON
Emerson, based in St. Louis, Missouri (USA), is a global leader in bringing technology and engineering together to provide innovative solutions for customers in industrial, commercial, and consumer markets through its network power, process management, industrial automation, climate technologies, and appliance and tools businesses. Sales in fiscal 2009 were $20.9 billion. For more information, visit http://www.Emerson.com.
For more information, please contact Knaack LLC, 420 E. Terra Cotta Avenue, Crystal Lake, IL 60014. Toll Free Phone: 800-456-7865. Web: http://www.Knaack.com, http://www.WeatherGuard.com. For media inquiries, please contact Kari Moosmann at karim (at) fusionb2b (dot) com.
###