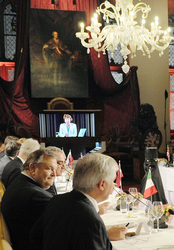 "This international event demonstrated that the position of power can be extended beyond physical presence through a commanding TelePresence" says Duffie White, CEO of TelePresence Tech
Plano, TX (PRWEB) October 4, 2010
For this high level transatlantic event the European Union chose to use the world's only true eye contact TelePresence Lectern from TelePresence Tech in Plano, Texas. Lady Ashton had an eye level view of her audience in the Throne Room in the City Hall in Ghent, Belgium as she sat in the transmission room in New York City. The audience could see her making direct eye contact with them as she appeared in the three dimensional setting of the lectern in front of the throne.
This TelePresence Tech system was chosen for this event since it was considered to be far superior to Cisco TelePresence, which does not have an integrated camera at eye level for aligned eye contact and only displays images on flat screens.
The implementation of 3D TelePresence is revolutionary for governments since it allows its leaders to take command where they are needed - without the delay and danger of being physically transported to the critical location. This advanced communications solution overcomes the problems of video conferencing or other flat screen telepresence systems. 3D TelePresence delivers a three dimensional sense of presence with true eye contact.
The transmission was conducted by Zay Campozano of EUS Networks on Fifth Avenue in NYC and the reception in Ghent was managed by Luc De Backer of Teleportel in Belgium. The 3D TelePresence communication was transmitted at the speed of light over IP networks at 3 Megabits per second, which delivered high definition at 60 frames per second for a truly lifelike experience.
"This international event demonstrated that the position of power can be extended beyond physical presence through a commanding 3D TelePresence" says Duffie White, CEO of TelePresence Tech.
TelePresence Tech has granted patents and the exclusive world rights for the only telepresence lectern solution that provides aligned eye contact for the presenter and the audience. This event was transmitted using the Sony PCS-XG80 codec with the TPT1900 Lectern to make a Sony TelePresence solution. This fully loaded system at $35,998 is a breakthrough in price performance for a high end telepresence solution.
###