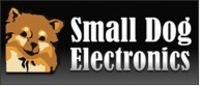 Manchester, NH (Vocus) October 1, 2010
Small Dog Electronics, a new breed of Apple specialist with a triple bottom line focus (people, planet and profit), will be celebrating the grand opening of their new store, centrally located in the Mall of New Hampshire, from October 9 to 17. A national leader in the tech industry, and New England's leading largest Apple specialist, Small Dog Electronics has made socially responsible business practices a central part of its business model. This includes a commitment to give back to the communities in which it does business.
Special events and giveaways during the week will include free training sessions, free personal and business consulting, special deals on bundled product packages and demos, apple-related snacks, seminars, and family day/game nights. The first 1,000 people to walk through the doors will get a special prize, and 14 brand new iPod nanos will be given away every other hour during the first weekend of Grand Opening to people who visit the store. A full list of the week's events and promotions is available at smalldog.com/nh.
Small Dog Electronics will be featuring an extensive line of Apple products and peripherals for both Mac's and PCs. The new store will also feature a large in-house service facility, and a dedicated training classroom.
Small Dog Electronics, New England's top Apple Specialist and reseller and a leading Apple specialist in the US, was founded in 1995 by the father and son team of Don and Hapy Mayer. Small Dog is a socially and environmentally responsible company and employer. For more information about Small Dog Electronics, and its product line of Apple computers, peripherals, iPods, software, and printers, visit their website at http://www.smalldog.com
###