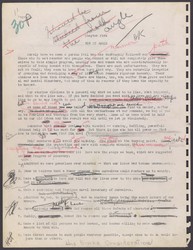 Book That Started It All
Center City, MN (Vocus) October 2, 2010
The original 1939 working manuscript of Alcoholics Anonymous, the revolutionary "Book That Started It All" that has sold more than 27 million copies in the US and Canada alone, will be made available to the public for the first time on October 1 by Hazelden.
As the "bible" for the worldwide fellowship of Alcoholics Anonymous (AA), the Big Book is arguably the most influential and important 20th century book on recovery from alcoholism and other drug addiction. It has been translated into more than 50 languages. The sale of this original working manuscript, which secured $1.56 million during its 2004 auction at Sotheby's, was ranked by Fine Books & Collections as among the top 10 of the year, along with the auction of the Magna Carta. The manuscript's current owner made available to the world-renowned addiction treatment center and publisher, Hazelden, high resolution scans of this historic document that in 1939 became the book, Alcoholics Anonymous -- which Hazelden will publish in a four-color cloth edition and bring to the world as a piece of cultural, medical and publishing history.
First written by AA's co-founder Bill Wilson, with contributions from many of the original 100 AA members, the 161-page working manuscript unveils five layers of handwritten comments and revisions in black, green and red pencil. The edits reveal the intense debates that transpired during six weeks in 1939, when several newly-recovering alcoholics discussed how to best share their message of hope with other alcoholics and their families.
"Hazelden's decision to publish this important manuscript is rooted in our belief that principles within the Twelve Steps are core to helping those that suffer from addiction to experience lifelong recovery," said Nick Motu, publisher and vice president of Marketing and Communications at Hazelden. Readers will see the "rejected" suggestions, inserts, cross-outs and last minute proof sheet changes – all of which now provide insights into the thinking behind AA's founding members as they described their program of recovery in print for the first time. Of special interest will be the debates in these pages over the role of religion and spirituality in AA – co-author Bill Wilson's decision to give this book a spiritual rather than explicitly religious character was a turning point that enabled AA to benefit people of all faiths and persuasions.
Readers can now explore the unedited version of the Twelve Steps (including a First Step that lacks the famous "We" of the opening); along with essays by AA and Big Book historians that explain how the personal experiences of the first AA members shaped the text. (The writers and contributors of materials in this new book are all currently members of AA and so have chosen to remain anonymous). One essay on the publishing history of the Big Book, recounts the internal debate over what to title the text: The Empty Glass, The Dry Life, The Way Out, and even One Hundred Men? Finally, the title Alcoholics Anonymous won out.
The original AA manuscript was copied and distributed to AA members, doctors, psychiatrists and ministers for suggestions, with all changes entered on one single multilith copy – the one reproduced in this book. For almost 40 years, the manuscript was stored within Bill and Lois Wilson's home in Bedford Hills, New York. In 1978, Lois gifted her prized possession to a friend, author Barry Leach of Montreal, and the document stayed hidden from public view for another 30 years.
"Imagine being able to explore a rare and valuable manuscript that takes you behind-the-scenes during the creation of one of the most influential books of all time – dramatically capturing the controversy and creativity that went into introducing AA's program of recovery to the world" marvels Twelve Step educator, Fred Holmquist, who is director of The Lodge Program at Hazelden. "For anyone who wants to understand the foundation of their own sobriety or that of their family, friends, co-workers and loved ones, this book will be a revelation. Most importantly, this 1939 manuscript highlights the collaborative process which changed forever the way the world treats alcoholics and drug addiction."
In a 1954 speech that is reproduced in the book, AA co-founder Bill Wilson says of the birth of Alcoholics Anonymous: "Not a syllable of this program, so far as I know, was in writing. How could we unify this thing [AA]? Could we out of our experiences get certain principles, describe certain methods that had done the trick for us? Yes, obviously, if this movement was to propagate, it had to have a literature so its methods could not be garbled either by the drunks or by the general public."
This four-color cloth edition will be available for $65.00 (sugg. retail) from bookstores nationwide. In addition, a numbered, leather-bound limited edition, available only direct from Hazelden, will be available in October for $125.00.
MEDIA NOTE: For advance copies and high-res images of this working manuscript of Alcoholics Anonymous, or to schedule an interview with Hazelden historian Fred Holmquist about the impact of this legendary book on addicts and people in recovery across the world, contact: Paul Maccabee or Caroline Landree at 612-337-0087.
About Hazelden
Hazelden, a national nonprofit organization founded in 1949, helps people reclaim their lives from the disease of addiction. Built on decades of knowledge and experience, Hazelden offers a comprehensive approach to addiction that addresses the full range of patient, family, and professional needs, including treatment and continuing care for youth and adults, research, higher education, public education and advocacy, and publishing. It has facilities in Minnesota, Oregon, Illinois, New York, and Florida. For more information, visit http://www.hazelden.org
Media Contacts:
Christine Anderson, Hazelden, 651-213-4231 or canderson(at)hazelden(dot)org
Paul Maccabee/Caroline Landree, Maccabee Group, 612-337-0087
###