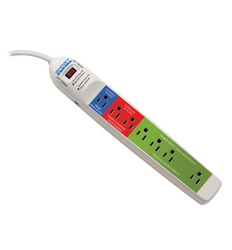 "Sustainable Life Solutions has made implementing the Smart Strip Rebate Program easy. Sustainable Life Solutions really has a turnkey solution and it's been a great partnership." Kevin Goddard, Littleton Electric Light and Water Departments
Bolton, MA (PRWEB) October 5, 2010
Currently, Sustainable Life Solutions is supporting Smart Strip Power Strip incentive programs for all of the investor owned utilities in Massachusetts -- National Grid, NSTAR, Unitil, Western Massachusetts Electric Company, and the energy efficiency provider Cape Light Compact. In addition to working with the larger players, Sustainable Life Solutions is unique in providing their full suite of services to municipal electric departments as well. In Massachusetts, Georgetown Municipal Light Department has joined the ranks of Belmont Municipal Light Department, Braintree Electric Department, Hingham Municipal Lighting Plant, and Littleton Electric Light and Water Department in introducing their ratepayers to energy saving Smart Strip surge protector which helps eliminate wasted electricity.
According to Kevin Goddard, Customer Service Manager at Littleton Electric Light and Water Departments, "Sustainable Life Solutions has made implementing the Smart Strip Rebate Program easy by delivering the whole package, [including marketing and communications assistance]. Sustainable Life Solutions really has a turnkey solution and it's been a great partnership."
In addition to being the market leader in Massachusetts serving both public and municipal utilities, Sustainable Life Solutions LLC has been approved to offer incentives in New York. According to Sustainable Life Solutions' President Laura Kischitz, "The Smart Strip program is very attractive to utilities and energy efficiency organizations that are trying to reach residents with easy ways to save energy. Each Smart Strip Surge Protector saves on average a minimum of $39.00 per year (according to the US Dept of Energy) and with the discounts and rebates available in Massachusetts, can cost as little as $15.95."
About the Smart Strip Power Strip
Many homes consume electricity needlessly through "phantom energy drain" caused by printers, PC monitors, DVD players, VCRs, TVs, game stations, and other peripheral devices. These devices are also known as "energy vampires" because they continue to draw some power even when turned off. The Smart Strip power strip eliminates that problem. These uniquely designed surge protectors automatically shut off peripherals. When computers or TV are turned off, the Smart Strip shuts off all power to the peripheral devices. The Smart Strip even works when computers goes into hibernation or sleep mode; the power strip automatically stops all power to printers, speakers, monitors and other peripherals. Visit their site for more information about the Smart Strip Power Strip or for information about the energy efficient rebate programs for Massachusetts residents.
About Sustainable Life Solutions LLC
Established in 2009, Sustainable Life Solutions LLC is an innovative market leader offering information, products, and services, to help people make simple changes that will have a positive impact on reducing energy consumption one household at a time. For more information, visit http://www.sustainablelifesolutions.com.
# # #