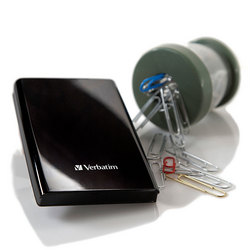 We're excited to introduce the Store 'n' Go, the first portable hard drive in Verbatim's USB 3.0 collection, and allow consumers to experience a significant improvement in data transfer speeds that will let them complete their tasks in a fraction of the time
Charlotte, NC (Vocus) October 5, 2010
Verbatim® Americas LLC, the information storage pioneer, is "backing up" data up to ten times faster than before with this month's release of the Store 'n' Go® SuperSpeed USB 3.0 compact portable hard drive. The brand-new portable hard drive – available 500GB & 750GB in October and 1TB in November – provides the fastest possible USB connectivity, letting consumers backup content in just seconds and take the drive, and their files, with them wherever they go.
"We're excited to introduce the Store 'n' Go, the first portable hard drive in Verbatim's USB 3.0 collection, and allow consumers to experience a significant improvement in data transfer speeds that will let them complete their tasks in a fraction of the time," said Charles Klinker, Verbatim's Director of Marketing, HDD Products. "With the Store 'n' Go, users can seamlessly enter into the new generation of USB 3.0 and safely and reliably share, store and back-up their data anytime, anywhere."
The new USB 3.0 bus-powered portable hard drive is backwardly compatible with USB 2.0 ports, ensuring that all of the user's content is completely accessible. Available in a sleek piano-black finish, the unit includes Nero BackItUp & Burn software for Windows, a free trial of Norton Online Backup (5GB) and Verbatim's industry-leading 7-year limited warranty.
Earlier this year, Verbatim introduced the 3.5" desktop USB 3.0 hard drive, an ideal solution for both home- and office-based users who want to transfer large files with the newest and quickest technology available.
About Verbatim
Verbatim's businesses in the Americas, Europe/Middle East/Africa and Asia Pacific regions are wholly owned subsidiaries of Tokyo-based Mitsubishi Kagaku Media Co., Ltd. MKM's parent company, Mitsubishi Chemical Corporation (MCC), is one of Japan's largest chemical companies. Verbatim develops and markets innovative, high-quality products for storing, moving and using digital content. Known for its leadership in the optical, magnetic and flash storage and related accessories markets, the company provides reliable, unique technologies and products that are highly sought after and broadly distributed worldwide. For more information, contact Verbatim Americas, LLC, 1200 West W.T. Harris Boulevard, Charlotte, NC 28262. In Europe, Verbatim Ltd., Prestige House, 23-26 High Street, Egham, Surrey, TW20 9DU, UK, (+44) 1784 439 781. In Japan, Mitsubishi Kagaku Media Co., Ltd., 4-1-23, Shiba, Minato-ku, Tokyo 108-8415, Japan (+81) 3-5454-3972. Or visit the web site at http://www.verbatim.com and select the country of your location.
# # #