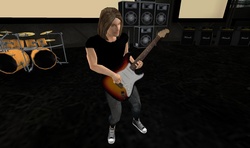 Vancouver (PRWEB) October 4, 2010
Virtual-Vancouver.com will host a live concert stream featuring trance guitarist Sy Sylver for six nights of music and entertainment showing at BBQues restaurant and its virtual counterpart within the city's 3D world online.
The event will take place Oct. 7-9 and Oct. 14-16 and made available to all Virtual-Vancouver.com members for a cover charge of 10 Rays, the virtual world's own currency, allowing thousands of Sylver fans – and anyone who enjoys live music – the chance to attend without having to leave their homes.
"We are proud to offer our community – both online and in real life – the opportunity to enjoy live entertainment like this six-night concert event," said Zak Zarry, president of Virtual-Vancouver.com parent company Utherverse. "Those who wouldn't normally be exposed to this kind of musical art can take part thanks to the vast reach of our 3D virtual worlds, and others who prefer to see it in person can head down to BBQues and check it out live!"
Sylver has opened for and played alongside several of the world's leading international DJs including Paul Oakenfold, Benny Bennassi, Tiesto, DJ Skribble, Seb Fontaine, Bad Boy Bill, Edgar V, DJ Vice, Mikey Swift, Mark Oliver, Yahel and many others.
The live web stream will start at 7 p.m. in the BBQues virtual space. BBQues' physical location is 1043 Mainland St. in Yaletown.
To attend the event online please visit http://www.Virtual-Vancouver.com.
Virtual Vancouver is part of Utherverse Digital's Virtual World Web (VWW), which features more than 35,000 virtual worlds with more than 6 million registered users.
The VWW is a series of interconnected 3D communities that deliver a user experience vastly more enriching and satisfying than the traditionally flat World Wide Web. Utherverse Digital's groundbreaking technology has revolutionized the way people relate to each other and embark on online experiences. With its 35,000 worlds, the VWW delivers entirely new kinds of online social interactions, as well as vastly improved methods for business that engages users to experience entertainment, commerce, news and events from the comfort of their own homes.
For more information please visit http://www.thevww.com.
# # #