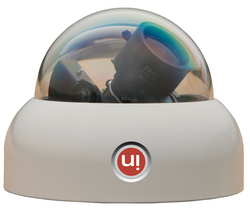 We serve an international customer base, so it's important our customers get consistent quality and performance from our cameras wherever the cameras are installed
Mountain View, CA (Vocus) October 4, 2010
Pixim Inc., a leading provider of image sensors and processors for enterprise security cameras, announced that inMotion Ltd will be introducing a complete line of security cameras based on Pixim's new Seawolf chip. The eight-camera series consists of five vandal and indoor domes in a range of sizes, two box cameras, and an ATM camera. The complete series will be launched at ASIS, one of the security industry's most important networking and exhibit events, October 12-14, 2010 in Dallas, Texas.
Seawolf cameras by inMotion are specified at a resolution of 690 HTVL effective and offer the industry's proven best wide dynamic range. In addition, the inMotion cameras require just 0.1 lux of illumination to produce usable, color images at a full 30 frames per second.
"We serve an international customer base, so it's important our customers get consistent quality and performance from our cameras wherever the cameras are installed," explains Kai Leuze, inMotion's chief executive officer. "We specialize in retail, banking, gaming, transportation, and government vertical markets where security lighting issues are common. Seawolf-powered inMotion cameras are the answer for any lighting situation."
"This is a well-funded, aggressive new company with an exciting new product line," says John Monti, vice president of marketing and business development for Pixim. "We know that the capabilities of inMotion's Seawolf-based cameras will make the company a strong contender in the video security industry."
About Pixim
Pixim Inc. has developed unique imaging technology that revolutionizes the way video cameras capture and process images. Unlike traditional image capture technologies, where each pixel cannot adjust to highlights and lowlights in the same scene, Pixim's patented Digital Pixel System® technology empowers hundreds of thousands of pixels to act like individual cameras constantly self-adjusting. This all-digital system enables Pixim-powered cameras to efficiently capture the whole picture, regardless of lighting condition or application - thus securing the highest resolution, natural color and clarity, while automatically eliminating image-compromising visual noise (e.g., glare, reflections). The result is more than superb image quality; it is accurate, actionable information that gives users the strength of certainty.
Pixim chipsets are incorporated into over a million security cameras installed in more than 100 countries worldwide. Visit http://www.pixim.com/cameras for a complete listing of Pixim-based cameras. For general information, visit http://www.pixim.com or call Pixim's headquarters in Mountain View, Calif., at (650) 605-1118.
About inMotion
inMotion is the new partner in the physical security industry, combining product quality and state-of-the-art technology with the best price performance in the industry.
Innovative developments in R&D centers around the world and intense quality requirements during the production process result in unique, high quality products. inMotion products are designed in Germany, engineered around the world and manufactured in Asia - meaning global sourcing of parts, advanced logistics and lean and optimized manufacturing. As an international company, inMotion is headquartered in Hong Kong with offices in Los Angeles USA, Frankfurt/Main Germany and Beijing China.
For general information visit http://www.inmotioncctv.com.
###