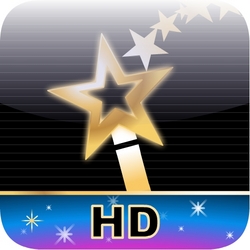 Cross Your Fingers And Make Your Wish Come True
(PRWEB) October 4, 2010
Arachnographics, the design and animation studio, in co-operation with Chris Software, today announced the launch of Twistar and Twistar HD, their iPhone/iPhone 4/iPod Touch and iPad game. The name of the app, as well as it's functionality, combines two things – rules similar to a popular "Twister" plus the the notion of "wishing on a star". That brings us to the Twistar.
In Twistar, the goal is to keep as many fingers on the stars, given on the touchscreen of the iPhone/iPad, as possible at the same time, not letting them fade away. The game gets more complicated when there is more players – however, multiplayer version has a big advantage: the winner gets points of other players summarized all together on his account. The game delivers a solid portion of pure amusement, but also allows users to train their concentration and manual skills.
With all that said, Twistar helps to realize, how awesome the power of palms can be: player has to finish level 5 with crossing his fingers to make his wish come true.
Basic version of Twistar is free to download. The paid version is free of ads and contains multiplayer mode along with new levels. Twistar and Twistar HD are available worldwide exclusively through the App Store in the Games and Entertainment categories.
Twistar for iPad
Twistar for iPhone/iPhone 4/iPod Touch
Arachnographics was formed in 2008 by Joanna Ciesla for the purposes of creating graphic design and animations. All Material and Software (C) 2010 Arachnographics. All Rights Reserved. Apple, the Apple logo, iPhone, iPad and iPod are registered trademarks of Apple Computer in the U.S. and/or other countries.
# # #