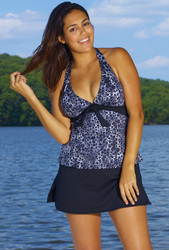 "Our top priority is making sure our customers get swimsuits that make them feel no less than fabulous."
West Long Branch, NJ (PRWEB) October 4, 2010
The recent launch of Swimsuitsforall.com's re-designed website is a smash success with customers. The online seller of plus size swimwear and accessories for women has equipped the new site with improved features that make finding figure-flattering swimwear ] a cinch.
Dedicated to customer empowerment, Swimsuitsforall.com made their new website even easier to navigate. In just a few quick clicks, customers will have access to a wealth of information on sizing, measuring techniques, swimsuit styles and problem-area resolution that can help the undecided make more informed swimwear selections. The innovative Fit & Flatter Guide tool lets shoppers insert their own unique measurements, style tastes and concerns into the website and get back a list of suitable swimwear suggestions.
"We want our customers to shop with confidence," said company president Moshe Laniado. "Our customers know that when they shop for a swimsuit on our site, they'll come away with exactly the right fit for their body."
Swimsuitsforall.com showcases new swimsuit arrivals from popular brands such as Longitude, Pembrooke, Maxine, Roxanne and Your Best Look in fun, fashionable styles and colors. The improved site features enhanced photography and more superior image quality than the previous site. The new true-to-life images were captured on the bodies of real-sized women.
"We use models that actually represent the real women who will be wearing our swimwear," Laniado said.
Site users can also zoom in close on each swimsuit and clearly see all of the fine details in the garments, allowing individuals to make well-informed purchasing decisions.
"We're all about giving our customers options," says Laniado. "Our top priority is making sure our customers get swimsuits that make them feel no less than fabulous."
Swimsuitsforall.com is an online retailer that sells swimwear and accessories for plus-size women. Women's swimsuits are available in women's sizes 8 to 16 and in plus sizes 18W to 34W. The company specializes in providing customers with high-quality fashionable bathing suits that comfortably fit their body and their budget.
For more information, visit: http://www.swimsuitsforall.com
# # #