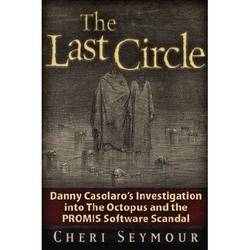 Walterville, OR (Vocus) October 4, 2010
As is sometimes the case, when an investigative journalist gets too close to the truth, that person mysteriously dies. The Last Circle is the story of one writer, Washington D.C. author Danny Casolaro, who ended up that way.
Casolaro had been investigating the theft of a revolutionary new software program called PROMIS that was the forerunner of artificial intelligence. It was used by the Department of Justice and yet someone had modified the software, installed a backdoor and then sold the new system worldwide. This software was used for money laundering, espionage, illegal drug and arms trafficking, and exploitation of sovereign Indian nations among other nefarious activities.
The investigation led the writer into a labyrinth of international spies, government officials, drug traffickers, mobsters, money launderers and even unsolved murders dating back as far as 1981. He called this cabal the "Octopus."
In early August 1991, he had discovered information that was going to blow the dirty dealings wide open. With a briefcase filled with documents he traveled to Martinsburg, Virginia but never made it back. He was found dead in a pool of blood in a hotel bathtub, his wrists slit and his briefcase missing. The local coroner ruled his death a suicide and his body was embalmed even before his family was notified of his death.
Soon after Casolaro's death, private investigator and journalist Cheri Seymour took up where he left off. Using information gleaned from law enforcement investigators, the FBI, U.S. Customs, police departments and even the RCMP, she uncovered powerful bureaucrats, distortions of truth, intrigue, murder and much more in her journey down the rabbit hole.
In The Last Circle, Seymour unmasks the official head of The Octopus as a person placed in the Department of Justice. The rest of the Circle included an out-of-control presidential administration and a cabal of fanatics who would do anything to quell the expansion of communism in neighboring countries.
A search for the truth can literally be a life and death matter, even here.
The Last Circle is published by TrineDay Books. Please visit http://www.trineday.com for ordering information and to view other titles.
###