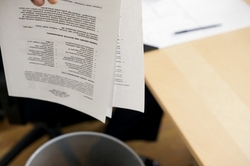 "There's no reason why you should get passed over, when you are qualified for a position," says Chen. "I can teach you (pharmacists) how to write a kick ass resume that stops them from getting tossed."
Surprise, AZ (PRWEB) October 5, 2010
In this tough economy, pharmacists are affected by the increased competition for pharmacy jobs. Those who used to have many job offers and pharmacy recruiters pursuing them are now frustrated by competing with 10, 40, 100+ applicants for one position, according to Chen Yen, PharmD, CEO of Pharmacist Job Connection. Many pharmacists, from new graduates to seasoned ones, now struggle with sending resume after resume and not receiving interviews as they would have a year or two ago. One pharmacist, Jason from Tampa, FL, who has been practicing for 18 years, describes his search for a job, "I have not seen the pharmacy job market like this during my career. I have been looking for three months now and am not hearing back from a lot of places I'm applying at."
Chen Yen, PharmD, "Get the Job" Expert recognizes the significant change in the job market and the need for pharmacists to be trained on how to market themselves. "Many pharmacists complain that they are qualified for the positions they're applying for, but not hearing from potential employers. It is no longer about how qualified you are, but how well you market yourself," says Chen. A skill not typically taught in pharmacy school curriculum becomes an important one to have in order to be successful with job hunting.
Chen announces the launch of a new teleseminar program Oct 7, teaching pharmacists the secret to getting noticed for interviews. She says a main reason for getting overlooked is not passing the 10-second resume test. The program shows pharmacists how to beat out their competition and get their resume to the top of the pile.
"If a hiring manager looks at your resume and decides it is not worthy to look further, your resume will be tossed. It is happening frequently in this tough job market," Chen Yen, PharmD says. "But there's no reason why you should get passed over, when you are qualified for a position. I can teach you how to write a kick ass resume that stops you from getting tossed." Chen believes that not having this skill has cost pharmacists jobs. She will be teaching her secrets to those who want to learn, so they can shortcut other pharmacists' mistakes.
Her new teleseminar, "5 Simple Secrets: How to Write a Kick Ass Resume that Stops YOU From Getting Tossed", is free with limited availability. When participants register, they'll learn what makes a hiring manager toss a resume aside, what not to include in a resume, insider information to standing out with online applications, how to leave a hiring manager wanting more & inviting you for an interview, cover letter or no cover letter? CV or resume? plus much, much more.
Chen Yen, PharmD is not only an experienced pharmacist, but also a "Get the Job" Expert who helps pharmacists get the job they want. Chen has taken her experience reviewing thousands of resumes over the past few years to identify patterns and strategies of what works and what doesn't. She incorporates those discoveries in showing pharmacists how to beat their competition to get interviews.
Pharmacists may register for the free teleseminar "5 Simple Secrets: How to Write a Kick Ass Resume that Stops YOU From Getting Tossed", Thursday, Oct 7, at 6pm PDT/9pm EDT. Participants may sign-up to receive a free recording if they are unable to attend: http://www.pharmacistjobconnection.com/kickassresume
###