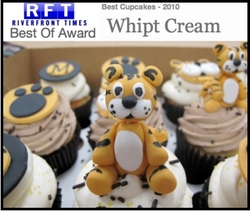 This Chesterfield bakery turns out some of the most beautiful, most delicious cupcakes we've ever seen or eaten.
Saint Louis, MO (PRWEB) October 6, 2010
Marking their second anniversary, Whipt Cream was voted by the Riverfront Times as the place to go for the best cupcakes in St. Louis. This certified team of cake-sperts seeks to provide their customers with a different kind of cake experience, and they certainly deliver. Every cupcake is a unique masterpiece which will inspire each of your senses. The sweet smell of sugar, the look of casual elegance in the Italian buttercream, the taste and feel of the moist cake as it touches your lips, and the sound of enjoyment by all are enough to agree that Whipt Cream has reinvented the traditional cupcake. Critics at the Riverfront Times rave that Whipt Cream's creations are, "the most beautiful, most delicious cupcakes we've ever seen or eaten."
Not only does the shop offer an assortment of freshly-baked flavors draped in signature buttercream, but you can count on an exquisite design to top it off. Each cupcake reflects the season, flavor, or theme of the day. Breast Cancer Awareness Month in October brings out all things pink at Whipt Cream. Select your favorite flavors and add one of their three pink, sugary designs to your cupcake for free! Take a peek at these designs and become a fan of our Facebook page. See even more custom creations on our interactive cake and cupcake gallery. Whether you are wandering in for one cupcake or custom ordering several dozen, Whipt Cream can give you peace of mind with a piece of cake.
About Whipt Cream:
Whipt Cream cakes and cupcakes embody the essence of flavor, the purity of all-natural ingredients, and the simple pleasures that come from a delicate dusting of sugar. Our signature buttercream is a reflection of our name. Sweet, creamy butter, a pinch of sugar, and oodles of egg whites make our buttercream light and airy. Whipt Cream is no ordinary cake shop. We dream up custom creations from simply elegant to wildly personalized. Whatever your special event may be we'll have your taste buds bursting and your guests captivated by our cake expertise.
Contact
Whipt Cream
143 Chesterfield Town Center
St. Louis (Chesterfield), Mo 63005
636.532.0020
info(at)whiptcream(dot)com
http://www.whiptcream.com
# # #