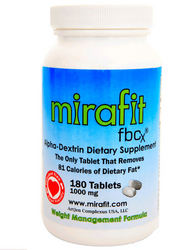 Mirafit fbcx breaks "yo-yo's"
Detroit, MI (PRWEB) October 19, 2010
Mirafit fbcx breaks "yo-yo's" offering, for the first time, hope to dieters who have lost weight and are at risk of gaining it back. The epidemic increases in the prevalence of obesity have spawned an entire industry of fad diets which typically restrict one specific food group or severely restrict caloric intake. Consumers can quickly lose weight but then get tired of their diet and just as quickly gain back everything and usually more than what they had lost. The next fad comes along and the consumer starts over again and the cycle repeats itself. Over a decade or two there may be a series of these cycles that at some point begin to look like the ups and downs of a yo-yo. Although effective for weight loss, Mirafit fbcx® is also effective for weight maintenance. Once the consumer has reached their desired weight, with or without Mirafit, Mirafit fbcx can be used to maintain that weight thus preventing the next upward swing of the yo-yo.
According to the inventors, Drs. Catherine Jen and Joseph Artiss, "Mirafit fbcx is a soluble fiber that reduces absorption of dietary fat. Taken as directed, six tablets each day, 2 per fat-containing meal, will reduce caloric absorption by about 500 calories/day. This is equivalent to approximately 50–60 percent of the fat or 25-30 percent of calories from the typical Western diet." Thus even though the consumer has physically stopped dieting they are able to maintain their new weight by regulating the absorption of the fat that they consume. Mirafit fbcx is not intended for use by individuals on a low fat diet.
How it Works
Unlike the new generation of pharmaceuticals that are designed to alter brain function, Mirafit fbcx is a naturally occurring, soluble fiber that forms a very stable complex with dietary fat in the stomach. As Mirafit is not absorbed into the blood stream it has no effect on brain chemistry. Fat that is bound into a complex with Mirafit fbcx is not available for absorption into the blood stream. As the fat remains bound while passing through the large bowel there are no unwanted intestinal side effects.
"Mirafit fbcx binds and eliminates nine times its own weight in dietary fat. One gram (one tablet) of Mirafit binds 9 grams or 81 calories of fat, thus preventing absorption of a significant portion of fat consumed," said Dr. Jen.
Study Results
Clinical studies conducted with either obese type 2 diabetics or overweight, but not obese non-diabetic volunteers have produced very exciting results. These investigations confirm the beneficial effects of Mirafit fbcx on weight loss and blood lipid levels as they have been implicated in the development of numerous chronic disease states, including type 2 diabetes, cardiovascular disease and hypertension.
New clinical data showed that significantly more weight was lost during the active phase as compared to the control phase of the study in the absence of any change to diet or exercise programs. Blood total cholesterol, LDL (bad) cholesterol, and the proatherogenic Apolipoprotein B levels were significantly reduced in the active phase while HDL (good) cholesterol levels remained unchanged. Participants with high triglyceride levels reduced their blood cholesterol levels more than twice as much relative to participants with normal triglyceride levels. In addition, the higher the cholesterol levels, the greater the cholesterol reduction in the active phase. Blood insulin levels were reduced in the active phase as compared to those in the control phase, which suggests a reduced risk of developing type 2 diabetes. Unlike any other studied weight loss product, the participants were not put on a low fat or low calorie diet. These data were consistent with an earlier study conducted on obese patients with type 2 diabetes.
"These results indicate that Mirafit fbcx not only exerts its beneficial health effects in obese individuals with type 2 diabetes, but also is effective in improving the blood lipid profile of apparently healthy non-obese individuals," said Dr. Artiss. "These findings build on previous animal and clinical studies that have demonstrated very positive effects on body weight and blood lipid levels."
Mirafit fbcx is a soluble dietary fiber that is not absorbed into the blood. The active ingredient in Mirafit fbcx has been designated by the FDA as Generally Recognized As Safe (GRAS). The World Health Organization has given it an allowable daily intake of "not specified," suggesting that there is no unsafe level.
About ArtJen Complexus USA, LLC
Mirafit fbcx was developed by Dr. Joseph Artiss, associate professor of Pathology in Wayne State University's (WSU) School of Medicine (Detroit) and Dr. K-L Catherine Jen, chair of Nutrition and Food Science in WSU's College of Liberal Arts and Sciences. Artiss and Jen formed ArtJen to commercialize the Mirafit fbcx technology. They acquired the rights to the technology from WSU to bring the product to the worldwide market. To learn more about Mirafit fbcx and its benefits, visit Mirafit fbcx®.
###