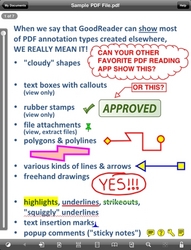 With GoodReader, we offer you many ways to annotate your PDFs, but the interface is almost invisible - it's only there when you need it and never gets in the way of users simply wanting to view their PDFs.
San Jose, CA (PRWEB) October 4, 2010
GoodReader for iPad, often hailed as the "killer app" for iPad, has just added the feature which will make it even more so – the ability to annotate any PDF with text, freehand drawings, and several other styles. The annotation feature, now available for both iPad and iPhone versions of GoodReader, gives users the ability to mark-up and share PDFs, such as manuals, schematics, and meeting notes, with friends and co-workers. Another key new feature is the ability to select text on a PDF and copy it to the clipboard, making it possible to copy blocks of text from a PDF into a document editor or email message.
Annotation is a feature long sought after by users who want to add their own mark-ups to PDFs, especially those collaborating as a team on shared documents. The types of annotations that can be created and edited in GoodReader include comments ("sticky notes") with seven different icons, text highlights, freehand drawings, lines, arrows, rectangles, ovals, text underlines, and text deletion, insertion and replacement marks.
GoodReader, developed by Good.iWare, has become such a huge success because of how it handles very large PDF and TXT files, navigating manuals, large books, magazines, and renderings of 100 mb and more with great speed compared to other document viewers. The ability to mark-up PDFs opens up new doors to GoodReader users who can now use sticky notes, lines, arrows, and freehand drawings on top of a PDF file. Best of all, each annotation is saved as part of a PDF file itself which can be emailed to colleagues and viewed on a desktop computer in any PDF reading program.
The new version of GoodReader also enables users to view or edit all notes, highlights, markups, and drawings created in other applications and properly stored in a PDF file. The types of annotations that you can view in GoodReader include text boxes with callouts, polygons and polylines, squiggly underlines, cloudy shapes, rubber stamps, and file attachments. Plus, all annotations that can be viewed can also be deleted.
The development team at Good.iWare worked diligently to ensure the PDF Annotations feature was there for users when they needed it, but out of their way when they do not. The team succeeded in making it as hidden as possible, while still providing the advanced annotating, markup and highlighting capabilities.
"Our aim with adding the PDF Annotations feature to GoodReader was to make it work as non-obtrusively as possible," said Yuri Selukoff, president of Good.iWare. "With GoodReader, we offer you many ways to annotate your PDFs, but the interface is almost invisible - it's only there when you need it and never gets in the way of users simply wanting to view their PDFs."
The other main new feature added to GoodReader is the ability to copy and paste text from a PDF onto the clipboard. Users can simply tap on a text and press their finger on the text they want to highlight for a second, then copy it to the clipboard or create markups for it.
Since its release, the iPad version of GoodReader has achieved #1 in sales in the U.S., Canada, France, Germany, Spain and many others. The iPhone and iPad versions of GoodReader are still available for only $.99 in the iTunes App Store but will soon be increased to $2.99 due to the added functionality.
About GoodReader
GoodReader is known as the top document reader for viewing and navigating large PDF documents on an iPhone and iPad. Besides its text search capability, other key GoodReader features are active hyperlinks, which enable users to more easily navigate within the document or launch a linked document or website, and PDF Reflow. These features make GoodReader an even better choice for those who browse large technical documents.
About Good.iWare
Good.iWare is an international team of software developers focused on creating quality mobile applications for the iPhone. For more information, visit the company's website at http://www.goodreader.net.
###