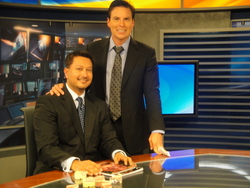 "What do patients want? A doctor that can explain treatment in a way that they can understand. Great interview this morning! There is art of explanation and Dr. Atcha has it". Randy Alvarez
Chicago, IL (PRWEB) October 6, 2010
The Wellness Hour the leader in Medical and Dental News and Information invited Dr. Irfan Atcha who is the national dental implant expert to be a guest speaker on the show. Randy Alvarez interviewed Dr. Atcha on what is the latest and the greatest in the field of Implant Dentistry. Dr. Irfan Atcha who has been recognized at the EXPERT in 21st Century Implant Dentistry discussed in the interview that there are millions of people in the US with one, few, or all of their teeth missing. Vast majority of these patients are resorting to old school methods like bridges, partial dentures and full dentures. The patients are not educated that if the missing tooth or teeth are not replaced with dental implant their jaw bone is constantly shrinking underneath. "Dental implants are the best thing that happens to dentistry, it reconnects people to something they have lost". Mentions Atcha
As an expert in Full mouth advanced rehabilitation implant dentistry Dr. Atcha mentions the cutting edge and the revolutionized All-On-4TM dental implants with Randy Alvarez. The All-On-4TM utilizes only 4 special placed dental implant in each jaw to attach all 10-12 teeth for full chewing and biting function and smiling. Long gone are the days of placing a dental implant for every tooth and performing bone grafting in the back part of the jaw to build the jaw bone back. "With the All-On-4TM dental implants our patients can come to our center have their damaged teeth removed have the implants placed and walk out with fixed non-removable teeth all in the same day in one or both jaws without any bone grafting". Say Dr. Atcha to Randy. Or these patients can come our Center with their ill fitting dentures and can have the All-On-4TM dental implants placed with minimally invasive methods that requires little bleeding and no stitches and leave with fixed non-removable teeth in few hours of arrival. It's that simple say Dr. Atcha. What use to take years to accomplish can be accomplished in just a few visits" Thanks to the advancement in the field of Implant dentistry which is forever evolving rapidly but only a few clinicians in the USA like Dr. Atcha are on the cutting edge in the industry. Says Randy. What do most patients want? They want the ability to have their doctor explain their treatment option to them and Dr. Atcha has that ability in him to do that. Mentions Randy.
Since the Dental Implant interview went so well, Dr. Atcha will be a guest once again for the Wellness hour on October 22, 2010 where Randy Alvarez will interview Dr. Atcha about Sedation and Sleep Dentistry as Dr. Atcha is an expert in this field as well. Dr. Atcha's Wellness Hour interview with Randy Alvarez can be watched here: http://www.wellnesshour.com/index.php?option=com_seyret&Itemid=11&task=videodirectlink&id=675
Dr. Irfan (Ivan) Atcha maintains a private dental practice limited to Dental Implants placement and restoration and advanced IV Sedation in Dyer, IN and Chicago, IL. He is an expert at rescuing and restoring the dentally disastrous and the fearful patients. He is the sole owner CEO of the group practice Dyer Family Dentistry, The Center for Implants and Sedation Dentistry, No Dentures Chicago Dental Implant Center and Northwest Indiana 3-D imaging. He attended the University of Illinois and graduated with a D.D.S. (Doctor of Dental Surgery). He has completed extensive post-graduate training in Dental implants surgical, prosthetic and esthetic components. He also has extensive training in Advanced General Anesthesia and pain management techniques for his patients comfort to rescue the dentally disabled and the disastrous and the fearful. He has completed over 1000 hours of advanced CE over the last 2 years in Implants, Sedation and Cosmetic Dentistry to stay on the cutting edge techniques. He also is a Diplomate of the International Congress of Oral Implantologists (ICOI). He is also a Diplomate of the American Dental Implant Association (ADIA). He is also a Board of Director Member of the ADIA as he was invited by the world famous Dr. Arug K. Garg to become the Board of Director of the ADIA. He has lectured and thought his methods of Implant dentistry in large national and international dental implant meetings. Currently Nobel Biocare (World's largest Dental Implant Company) has asked Dr. Atcha to speak regionally to local dentists about his method. His office tries to recreate a spa-like atmosphere and his services include Sedation, Implants, and Cosmetic dentistry, sleep apnea treatment, TMJ dysfunction treatment, laser dentistry, fluorescent oral cancer screenings, Healthy Gums Healthy Heart screening and digital radiography including a digital i-CAT CT scanner for exceptional patient care. Dr. Atcha holds dental licenses in Indiana, Illinois and Florida. Also, Dr. Atcha is one of the few dentists in the region that holds Dental Anesthesia permits in the State of Illinois and Indiana to provide Full anesthesia in his office for patients comfort. His office is online on Facebook and YouTube (DrIrfanAtchaDDS) and the office website is: http://www.ChicagoNoDentures.com. And http://www.DyerFamilyDentistry.com His office phone number is 888-416-4109.
###