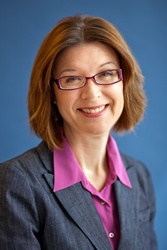 San Francisco, CA (Vocus) October 4, 2010
Cammie Dunaway, whose last day as executive vice president of Nintendo was on Friday, is greeting Monday morning with a smile as she launches into the newly created role of U.S. President and Global Chief Marketing Officer for KidZania, Inc. After three years guiding kids through the virtual world of video games, Dunaway now is taking on the real-world entertainment of KidZania. Mexico-based KidZania is a global entertainment and educational phenomenon where kids explore and run a kid-sized city, complete with streets, buildings, businesses, vehicles and more.
"This new role truly is the culmination of everything I've done and hope to do in bringing entertainment and education to the world's children," describes Cammie Dunaway, KidZania's new U.S. President & Global Chief Marketing Officer. "The more kids know about their options in life, the better prepared they'll be. To empower young people to dream big – what a privilege!"
KidZania's interactive family entertainment centers are more than just a theme park or children's museum. In KidZania, ages one to 13, along with their parents, explore a real, kid-sized city. Kids play adult roles and learn how to be a vet, baker, firefighter, pilot and more through life-like experiences designed to teach and inspire. KidZania already is a global brand with eight active parks and many more slated to open between now and 2013. The first KidZania opened in Mexico City in 1999, quickly becoming the premiere destination with more than eight million visitors to date. The second park opened in 2006 in Monterrey, Mexico, followed by Tokyo, Japan. Jakarata, Indonesia launched in 2007, with Osaka, Japan and Lisbon, Portugal opening doors in 2009. Success in all markets led to an early 2010 launch in Dubai, UAE and Seoul, Korea. The trajectory continues with 2011 park openings slated for Bangkok, Thailand; Shanghai, China; Santiago, Chile; Sao Paulo, Brazil; Kuala Lumpur, Malaysia; and Mumbai, India; plus a KidZania "Drive" park in Mexico City; where kids can drive from point-to-point. Expansion into Instanbul,Turkey, and Cairo, Egypt will come in 2012, followed by the U.S.
Dunaway's role includes global marketing for the rapidly growing number of locations, but also as U.S. President, she will lead the effort to launch the parks in the U.S. and identify new sponsorships and partners. At KidZania, sponsors have a key role in designing spaces related to their business and supply the experience content in a very organic way. Sponsor companies include many global brands and the list continues to grow literally by word-of-mouth, since the experience is right in a marketers' bullseye of involving both kids and parents.
Dunaway, who will open a KidZania office in San Jose, CA, also plans to build a more robust online presence for those who aren't yet able to visit a park in person. "I have no doubt that KidZania can become one of the world's biggest brands. I am thrilled to help make that happen," says Dunaway.
KidZania is the child of visionary Mexican entrepreneur Xavier Lopez Ancona, who, in the 1990's saw working mothers struggling to find stimulating care for their children. His work ultimately culimated into a bigger idea with the opening of the first KidZania location in Mexico in Mexico City.
"With the help of recruiter Wiser Partners, we hand-picked Cammie because of her rich background and her passion," notes Xavier Lopez Acona, KidZania CEO. "We fell onto the same page instantly. We look forward to further building KidZania and inspriring kids to live better and reach higher through entertainment and education."
As a highly-seasoned marketing executive, and prior to her role as Executive Vice President of Nintendo overseeing the Americas, Dunaway was the Chief Marketing Officer for Yahoo!, Inc. She also managed several brands for Frito-Lay during her 13-year tenure, focused mostly on teen and kid products. She holds a masters degree from Harvard, and has won many notable professional awards during her career.
About Kidzania:
KidZania, Inc. headquartered in Mexico, is privately held. The company has 4500 partners and employees worldwide and growing. KidZania continues to win many awards from organizations recognizing the unique blend of entertainment and learning that the parks and the concept offers, including being voted the World's Top Family Entertainment Center by the IAAPA (International Association of Amusement Parks and Attractions), and 2009 Global Leisure Operator of the Year, to name a few. KidZania park locations and company information can be found at http://www.KidZania.com.
CONTACT:
Beth Llewelyn, 206-406-5027, beth(at)zebrapartners(dot)net
or
Perrin Kaplan, 206-909-0119, perrin(at)zebrapartners(dot)net
# # #