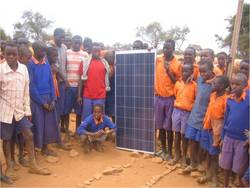 The ethos behind Gamewatchers Safaris is to preserve and maintain the wildlife through working with local communities in Kenya. We are pleased and excited to have teamed with Givewatts to help with lighting the local Iloirero school.
(PRWEB) October 6, 2010
Givewatts is a registered charity which installs renewable energy solutions in places that would otherwise rely on daylight, firewood and kerosene, giving better quality of life to rural people and making a positive impact on the environment.
The Iloirero Primary school is near the Selenkay Wildlife Conservancy where Porini Amboseli Camp is located. The school caters for children from the surrounding Maasai homesteads, with a student population of 350. The community had asked Gamewatchers Safaris for help with lighting so that pupils could study in the evenings. The solar panels and lighting mean that classes can take place after dark, which comes early on the equator!
Gamewatchers Managing Director Jake Grieves-Cook thanked the Givewatts Country Director in Kenya, Anjali Saini, for her support in bringing solar lighting to the school and said that it was hoped that a similar project could soon be implemented at another school supported by the company near their Ol Kinyei Wildlife Conservancy in the Mara.
Gamewatchers Safaris is a Kenya-based safari company that specializes in delivering customised safaris to small camps and lodges in East Africa. The company is committed to helping preserve Africa's unique wildlife, landscapes and to supporting local communities. They believe the best way to do this is through sustainable ecotourism ventures that benefit the local communities while giving their guests a rewarding safari experience at the same time. Their Porini group of Safari Camps is a sustainable model that practically implements these principles. Gamewatchers Safaris and Porini Camps are dedicated to providing their guests with a rewarding safari experience, exemplary personalized service and strive to have them leave as friends.
For information on how we support local communities and how you can book a Kenya Safari, contact us at Gamewatchers Safaris now.
###