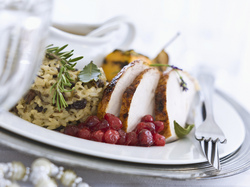 (PRWeb UK) October 5, 2010
Christmas is coming and Rectory Foods is set to top the tables during the festive period, with the launch of a fresh Turkey Butterfly under its new foodservice brand – 'No Nonsense'.
The No Nonsense fresh, 100% natural, skin-on Turkey Butterfly is available now and is aimed at all areas of the foodservice sector. Caterers and chefs should start stocking up now in time for the Christmas season.
The individually wrapped, vacuum-packed, products have a typical 21-day shelf life from date of production and come in convenient sizes to meet the needs of caterers and chefs. There are 4 x 4kg (minimum), butterflies per box (50 boxes per pallet) and each piece serves between 35-50 portions. Not all turkey products on the market can offer this shelf life as some products only offer 12 days from production and may contain added water, which can lower the quality and cheapen the product. With No Nonsense, chefs can rest assured that they are serving only the finest turkey to their customers this Christmas.
The high quality, fresh Turkey Butterflies can be served sliced as part of traditional festive dinners for parties, as part of a banquet or buffet, and for Christmas carvery menus.
The global supplier of quality poultry, red meat and food ingredients has launched No Nonsense Turkey Butterflies especially for the 2010 Christmas season and there are plans to offer the products all year round. Carl Scothorne, Sales Director for Rectory Foods' fresh poultry division confirms that the Turkey Butterflies are sourced in Italy from to guarantee the highest quality turkey for the UK foodservice market. Scothorne says:
"Christmas is of course a key period for turkey sales and we are expecting great results from our new No Nonsense Turkey Butterflies. Using our international sourcing and distribution capabilities, we are delighted to supply the UK foodservice sector with the finest, freshest, value-for-money turkey, delivered in time for the festive period. No Nonsense is a brand customers associate with quality and value and we want to be chefs' and caterers' first choice in turkey this year."
"Putting tasty, cost-effective, popular dishes on the menu is important to meet customer demand in the run up to Christmas and over the festive season. Chefs can feel confident they are giving diners only the highest quality turkey and that our No Nonsense Turkey Butterflies will be a popular choice this Christmas."
Rectory Foods' No Nonsense brand was launched in September this year with fresh, 100% chicken fillets being the first product in the portfolio. This is the first extension of products under the No Nonsense range.
No Nonsense Turkey Butterflies are aimed at chefs and caterers in pubs, bars and restaurants, hotels, catered events and other foodservice outlets, as well as schools, universities, hospitals and workplaces.
Rectory Foods has a dedicated technical department to ensure all its suppliers meet BRC standards.
No Nonsense is available via cash and carries, wholesalers and regional distributors now. For details of your local stockist, email info(at)rectoryfoods(dot)com or call 01477 544 550.
To find out more about Rectory Foods, visit http://www.rectoryfoods.com.
Notes to editors:
No Nonsense – product information

No Nonsense Turkey Butterflies, minimum of 4kg each x 4 per box, 50 boxes per pallet
For further editorial information or to request hi-res images and samples, please contact Francesca Gaffey or Jaime Markey @ JAMpr Ltd:
Tel: 0161 850 0565 / 0161 850 9595
E: francesca(at)jampr(dot)co(dot)uk / jaime(at)jampr(dot)co(dot)uk
# # #