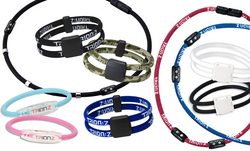 "Everyone should give it a shot." Rory McIlroy
(PRWeb UK) October 5, 2010
There may have been a rainy start to the long awaited Ryder Cup this weekend, but the stars of the tournament were more than prepared with their Trion:Z bracelets.
This year it seems that Trion:Z is the must have piece of equipment for Ryder Cup players. Ricky Fowler, Rory McIlroy and a whole host of professional golfers and caddies were seen with one of the sports most renowned complimentary health products: Trion:Z.
These new Trion:Z products, pronounced Tri-on-Zee, use magnetic and ionic technology and users have reported that they aid with focus, energy, improve, fatigue and injury recovery. They have taken the golfing world by storm!
Trion:Z team Europe's Irish star, Rory McIlroy, a long-time believer of Trion:Z and believes, "everyone should give it a shot."
Francesco Molinari, Thomas Bjorn and Miguel Jiminez, who were spotted boasting the magnetic bracelets by avid golf fans and Trion:Z consumers.
And from Trion:Z team USA, American stud and world class professional, Ricky Fowler sees of Trion:Z as an important part towards maintaining his healthy and active lifestyle, "As a professional athlete, I need my body as healthy as possible."
Visit http://www.trionz.co.uk to see the what the golfers wear and what they think of Trion:Z.
About Trion:Z:
Trion:Z, developed in Japan as a performance and lifestyle product over 10 years ago has gone from strength to strength in the magnetic ionic ghee health and lifestyle market.
Trion:Z launched its award winning range of products in 1997 and is now a leader in providing magnetic ionic sports bracelets and necklaces to the global health and fitness arena, with a presence in over 60 countries worldwide.
With Trion:Z's negative ion releasing Mineon Health Fibres and capsules, negative ions are released at rates of 50-100 times greater than competing products and the patented magnetic technology ensures that the magnetic flow remains constant, making it one of the most technologically advanced product on the market.
Manufactured by Japan's leading manufacturer of medically certified devices, Arc Quest Co. Ltd, Trion:Z health and lifestyle products uniquely boast Japanese medical approval and full ISO accreditations.
Trion:Z and Colantotte products are categorised as Alternative or Complimentary Health products and use patented magnetic ionic technology which is unique to their ranges only. The search for such non invasive therapies to help with stress, pain, fatigue, to promote sporting endurance, exercise and training recovery and to enhance general physical performance at any level is ever increasing in popularity. With nearly 40% of U.S. adults reporting using such alternative methods, medical associations are researching more and more into technologies like Trion:Z, deemed a 'no health risk' by the World Health Organisation.
For further information on Trion:Z UK
http://www.trionz.co.uk
Contact Nisha Mehta, Marketing Manager on 01565832521 or email nisha (at) trionz (dot) co.uk
###