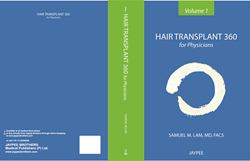 Karamanovski and I have collaborated on the production of Hair Transplant 360 with the intention of offering extensive and detailed information on the entire hair restoration process
(PRWEB) October 06, 2010
Plano, TX (PRWEB) October 6, 2010 -- Texas hair transplant surgeon, Dr. Samuel Lam, M.D., F.A.C.S., is pleased to announce the upcoming release of his newest medical textbook, Hair Transplant 360. The two volume textbook on hair restoration and hair transplant techniques, geared to both hair transplant surgeons as well as their medical assistants, is the first of its kind and is the fifth medical textbook written by Dr. Samuel Lam on various topics related to plastic surgery.
Hair Transplant 360, published by Jaypee Brothers Medical Publishers, is truly a unique concept in the realm of medical textbooks. The two hardcover volumes are divided for distinct uses – the first volume, authored by Dr. Samuel Lam, is intended for use by physicians performing hair restoration and hair transplant surgery. The second volume, authored by Emina Karamanovski, Dr. Lam's assistant, is written specifically as a training tool for medical assistants involved in the hair restoration process. Never before has there been a book focused solely on the role of medical assistants during hair restoration procedures.
"Karamanovski and I have collaborated on the production of Hair Transplant 360 with the intention of offering extensive and detailed information on the entire hair restoration process," explains Dr. Samuel Lam. "Any physician involved in hair transplant surgery understands the importance of having an educated and experienced assistant by their side, and this book is our way of providing practical clinical information to physicians as well as assistants, in order to achieve the best possible hair restoration outcomes."
The dual volume book is accompanied by seventeen videos (on eight DVDs) that illustrate each and every phase of the hair restoration process in precise detail. The videos are useful for physicians and assistants, and are an added bonus to the high-resolution still images and lavish illustrations included throughout the book. In addition to in-depth clinical information related to hair transplant surgery, this innovative book also includes sections on staff management, leadership, and guides on effectively hiring and properly training assistants. Case studies are also included to illustrate various hair transplant techniques and to pinpoint some of the more creative aspects of the procedure.
Dr. Samuel Lam is owner of Lam institute for Hair Restoration (http://www.hairtx.com) and is a hair restoration and hair transplant surgeon in Dallas, Texas. Dr. Lam is also the author of five other major medical textbooks related to the field of plastic surgery, has written more than 150 scientific articles, and has shared his expertise as a speaker at medical conferences and symposiums around the world. Following its release in October, Hair Restoration 360 will be available in medical bookstores or can be ordered directly from Jaypee Brothers at JaypeeBrothers.com.
###