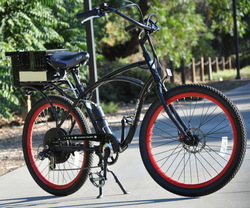 "SiGNa's portable-power system overcomes two key challenges with using hydrogen for transportation applications – adequate hydrogen storage and safe transport. - Michael Lefenfeld, CEO
New York, NY (PRWEB) October 5, 2010
The race to create a hydrogen-based portable power platform sped forward when SiGNa Chemistry, Inc. demonstrated its new ultra-high-performance range extender at the Interbike International Trade Expo. This ground-breaking power platform produces hydrogen gas instantaneously and then converts the hydrogen to electricity using a low-cost fuel cell. The extender creates up to 200W of continuous power; excess energy is stored in a lithium battery for use in more energy-intensive acceleration and hill climbing conditions. Best of all, the power system is safe and clean – the hydrogen is produced at low pressure and the only emission is water vapor.
For the rider, the extender triples the range of their e-bike with minimal additional weight. Existing e-bikes have a range of up to 20 miles without pedaling; SiGNa's system reaches up to 60 miles without pedaling for each carried fuel cartridge. The fuel cartridges are also hot swappable, lightweight (1.5 pounds) and inexpensive, making this a realistic solution for any e-bike owner.
"The extender uses inherently-safe reactive metal powders to produce electric power. By integrating SiGNa's hydrogen-generation technology with an e-bike, we have demonstrated an unprecedented power solution with no greenhouse gas emissions," says Michael Lefenfeld, President and CEO of SiGNa Chemistry, Inc. SiGNa's range extender was demonstrated on a Pedego electric bicycle, but it is directly compatible with most electric bicycle models.
Sodium silicide makes this portable power system possible. Sodium silicide is a safe, air-stable reactive metal powder that instantly creates hydrogen gas when it comes into contact with water. Any type of water can be used including potable water, polluted water, sea water, or even urine. Once the fuel cartridge is depleted, the rider is left with an environmentally-safe byproduct (sodium silicate) that is fully contained in a disposable or reusable cartridge.
SiGNa has adapted its award-winning powders for use in many industrial applications including pharmaceuticals and oil refining. Since sodium silicide is safe, inexpensive and easily transportable, the portable power market is a natural fit.
Says Lefenfeld, "SiGNa's portable-power system overcomes two key challenges with using hydrogen for transportation applications – adequate hydrogen storage and safe transport. SiGNa has begun by developing a system that provides power to e-bikes; we envision this platform will become a primary or back up power source for many transportation applications."
SiGNa's portable power platform can be utilized in any standalone application that require from 1 W to 1 kW of power including generators, lawn mowers, golf carts and consumer electronics.
Pre-orders for fuel cartridges are being taken now at sales (at) signachem (dot) com.
About SiGNa Chemistry
SiGNa Chemistry, Inc., a green chemical technology company, has developed a nanotechnology-based solution that makes reactive metals far more efficient, safe, and cost effective. These products are fundamental components used for general synthesis in the pharmaceutical, petrochemical, specialty chemical and environmental remediation industries and provide the ability to enable portable fuel cells by safely producing pure, low pressure hydrogen gas on demand. SiGNa's products have overcome safety and cost efficiency issues and represents the most substantial scientific breakthrough in reactive metals in over 100 years. For more information, visit http://www.signachem.com.
###