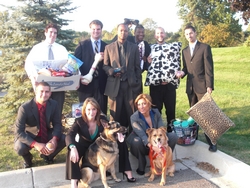 It's one thing to recognize a problem and assert one's discontentment with the issue, but it's another to step up to the plate and be part of the solution
Farmington, MI (PRWEB) October 5, 2010
MIICAH Marketing Solutions, Inc., a Michigan-based sales and marketing company, recently announced their support of the Michigan Humane Society, the largest and oldest charitable animal welfare organization in the state of Michigan.
Throughout the month of August, President Christina Schuster and the team at MIICAH Marketing Solutions collected monetary donations, grooming supplies, bedding, food, toys, and other necessities that are needed and used by the organization.
"Michigan has been hard-hit by the downturn of the economy. This has caused many families to lose their homes and jobs – resulting in an increase of animal abandonment," said President Christina Schuster. "This charity event helped our team raise awareness of this growing dilemma and will hopefully establish a continued effort to support neglected animals."
After researching the mission of the Michigan Humane Society, Christina and her team learned that more than 100 animals are surrendered to, or recued by, the organization daily. Many of these animals are products of unwanted litters or have been subjected to abuse, neglect, or abandonment. In other cases, families can no longer provide adequate care for their pet due to financial distress. The MIICAH Marketing team believes in the cause supported by the Michigan Humane Society and was compelled to offer their support.
"It's one thing to recognize a problem and assert one's discontentment with the issue, but it's another to step up to the plate and be part of the solution," said President Christina Schuster. "Charity events and volunteer work keep us humble and aware of our surroundings, despite living in a world where it's easy to get wrapped up in personal drama and ignore social suffering."
Follow us on Facebook!
About MIICAH Marketing Solutions, Inc.
MIICAH Marketing Solutions, Inc. is committed to passing their competition in quality, innovation, and value. They seek to meet and exceed the expectations of their clients through their unique combination of talents, experiences, and perspectives, and of course, their sales force. Their expertise remains in reinforcing brand loyalty and attracting new clients by building relationships on a solid framework of respect, integrity and professionalism. For more information, contact 248-994-8590.
###