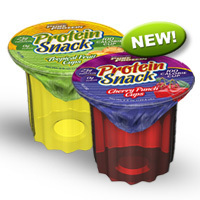 "We're excited to create this new category of protein snacks and believe there is no other product like it on the market. Pure Protein® is on a quest to harness new sources of protein delivery that make healthy living easier and more convenient for today
Ronkonkoma, NY (PRWEB) October 6, 2010
Pure Protein® is extending its broad line of delicious premium protein products with a brand new innovative protein category, Protein Gelatin Snacks. This novel product offers a convenient and fun alternative for consumers looking for a lightweight, sweet protein snack. The product will be sold exclusively through GNC stores for the next six months.
This protein gelatin combines the same consistency and texture that we all know and love, yet it continues the nutritional profile of other Pure Protein® products. Pure Protein® Protein Snacks are high in protein, low in fat and contain no sugar. At only 100 calories, each 6 oz. cup packs an amazing 23 grams of protein, 0 grams of sugar and 0 grams of fat.
With Pure Protein® Protein Snacks, consumers have the option of eating it on the run at room temperature, or traveling with it to the gym or office. It can also be refrigerated and consumed before or after exercise, or in-between meals. The package design continues with Pure Proteins'® brand recognition, showing off a contemporary look and feel, always helping to break through the clutter on and off the shelf. According to Brand Manager Mark Innace, "We're excited to create this new category of protein snacks and believe there is no other product like it on the market. Pure Protein® is on a quest to harness new sources of protein delivery that make healthy living easier and more convenient for today's active consumer."
The new Protein Snacks come in a three-pack package in two delicious flavors --Tropical Fruit and Cherry Punch. The new item will be sold exclusively through GNC which is fully supporting the launch with plenty of publicity including e-mail blasts and in-store product sampling. For more information, visit http://www.pureprotein.net.
About Pure Protein®
As the tagline clearly states, Pure Protein® understands the importance of eating good and looking great, which is why they work hard at creating quality products both inside and out. Pure Protein® offers a premium line of delicious protein products designed to supplement the nutritional needs of men, women and children, with the purest forms of protein necessary for a lean, healthy and strong body.
###