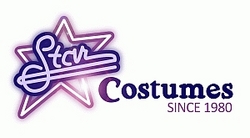 Anyone can take a costume, add a short skirt and revealing top and create a sexy look for Halloween. But it takes creativity and a great design to put together a costume that's as stunning and memorable as it is sexy.
Toledo, OH (PRWEB) October 5, 2010
With an extensive inventory and 30 years of experience in the costume business, StarCostumes.com has always had an eye on Halloween costume trends. This year Star Costumes has picked out its Top 10 Sexy Costumes for 2010 -- ten great sexy costumes for women that are the cream of the Halloween crop.
As Halloween approaches, many women will be looking for the perfect sexy costume. A wide range of costumes are available for all body types and all tastes, from "sassy" costumes that are cute and fun without being too provocative, to bolder, more risqué costumes.
It's easy to take any costume concept, add a short skirt and a revealing top, and create a sexy look for Halloween. But it takes creativity and a great design to put together a costume that's as stunning and memorable as it is sexy. The best sexy costumes are fun to wear, beautiful to behold, and will make your Halloween one to remember for years to come!
Star Costumes has selected 10 sexy costumes for women that are sure to be big hits this Halloween season. From familiar classics to new favorites, these costumes aren't just popular, they also look great. Our Top 10 Sexy Costume Picks for Halloween 2010 are as follows.
Mermaid Costume - The mermaid costume is classy and elegant, usually combining a bare midriff with a long, slinky skirt. The mythological connotations with sirens of the sea only add to the appeal of this costume.
Pirate Costume - Pirates never go out of style, and couldn't care less about following the rules! A pirate costume lets your free spirit shine out – and it looks great, too.
Vampire Costume - These blood-sucking creatures of the night combine danger and daring with an unearthly beauty. Vampires have always been associated with transgression, and a sexy vampire costume is perfect for a woman who's not afraid of her dark side.
Fairy Tale Princess Costume - Don't give up your childhood fantasies of Happily Ever After – live them in a fairy tale princess costume! These princess costumes are all grown up and combine gorgeous fabrics and colors with a flirty short skirt and daring neckline.
Devil Costume - It doesn't get any hotter than a sexy devil costume! Bright red, combined with devilish horns and a forked tail, create a saucy and daring look.
Bee Costume - Why has the bee become such a popular sexy costume? Probably because it combines the sweetness of honey with the risk of a sting. But who wouldn't want to risk being stung by such a beauty?
Referee Costume - This sporty costume is both pretty and tomboyish, and it's a great attention-getter! Who knew that black and white stripes could look so striking?
French Maid Costume - The French Maid costume is a classic, and it's not hard to see why. There's a certain je ne sais quoi about that black uniform with white frilly lace that's been inspiring fantasies for years. Add a feather duster to complete the effect!
Witch Costume - If you think of a witch as an old lady with green skin and warts cackling over a cauldron, think again! The witch is another classic Halloween costume that gets new sexy makeovers every year.
Bollywood Dancer Costume - We've looked at some of the classics – now let's look at a relative newcomer to the sexy costume scene. Bollywood cinema has never been hotter, and this costume combines Bollywood mystique with a more familiar Halloween costume – the belly dancer. Add silky fabrics, beads and jewels, and bright, stunning color, and you've got a winner.
All of these sexy costumes – and many more – are available now at StarCostumes.com. To find out more, visit the Star Costumes website, or call 888-573-4594 to speak with a representative.
About Star Costumes:
Star Costumes has been in business since 1980 and online since 1997. With almost 30 years of experience in the Halloween costume industry, StarCostumes.com is dedicated to offering the largest selection of adult costumes and kids costumes for our customers at some of the most competitive prices on the web.
###