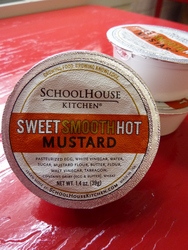 Brooklyn, NY (PRWEB) October 6, 2010
SchoolHouse Kitchen® is pleased to announce the launch of a new program with Whole Foods Market stores in the company's Northeast Region: the Gourmet Mustard and Freshly Baked Pretzel Combo. Starting the week of October 4th the Bakery Department of all Whole Foods Market stores in the Northeast Region will offer a freshly baked pretzel with a 1.25 oz. serving of SchoolHouse Kitchen's original SweetSmoothHot Mustard.
"We love partnering with Whole Foods Market. This program is really exciting for us as it will be a whole new way to reach people who have not yet discovered our products. I love a fresh, yummy pretzel-and-mustard combo, and our SweetSmoothHot Mustard is the perfect addition for upping the flavor quotient in this classic duo," says Wendy W. Smith of SchoolHouse Kitchen.
While SweetSmoothHot Mustard is the original SchoolHouse Kitchen product, the diminutive 1.25 oz. packaging size is new for SchoolHouse Kitchen. "We really love this small size because we understand that in this economy making a commitment to try a different gourmet product can be difficult. This sampler will allow people to easily try our award-winning mustard. In our experience, once people taste our products, they keep coming back for more," said Smith.
"We are so honored that Whole Foods Market is featuring our first product this way," continues Smith. The regular 9 oz. retail sized jars of SweetSmoothHot Mustard are also available for sale at participating Whole Food Markets, along with our other all-natural chutneys and vinaigrettes. All products, including the hugely popular line of Anytime Spreadable Fruit, are also available for purchase on the SchoolHouse Kitchen website.
Whole Foods Market, founded in Austin, TX in 1980, has 22 stores in the Northeast region that are participating in this partnership with SchoolHouse Kitchen—New York, Southern Connecticut, and Northern New Jersey.
SchoolHouse Kitchen was founded by Patsy Smith in her upstate New York kitchen with her own widely-adored home recipes. Through the sale of its all-natural, gourmet products, the company's mission is to support educational causes and programs.
To learn more about SchoolHouse Kitchen, its mission, and how to purchase our products, visit http://www.schoolhousekitchen.com or call 718.855.4990.
###