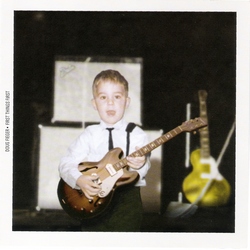 Los Angeles (Vocus) October 5, 2010
Eight months after Fieger lost his long time battle with cancer, the Estate of Doug Fieger is releasing First Things First, a collection of the artist's songs never before available for digital download. Fieger was best known as the front man for the power pop group, The Knack, whose mega-hit, My Sharona, was the Billboard #1 song of 1979, breaking the strangle hold Disco held on the music industry and ushering in the New Wave and Punk soundtrack of the 80s.
Initially conceived as a platform for a possible new group album, and comprised of twelve original songs and one cover, Fieger released First Things First in 1999 as a solo artist on his own label, Zen Records. With an impressive array of rock royalty in the studio with him, the album more than holds its own when held against the unforgettable hooks and iconic rhythms that drove The Knack's debut album, Get the Knack, to over six million sales globally and two Grammy nominations, including Best New Artist and Best Rock Vocal Performance.
Co-produced with legendary producer (and former high school classmate) Don Was, and with a little help from such luminary friends as Rick Dufay (Aerosmith), Jim Keltner, Billy Ward, Benmont Tench (Tom Petty & The Heartbreakers), Ray Manzarek (The Doors), Billy Preston, Jeff 'Skunk' Baxter (Doobie Brothers and Steely Dan), Doug Fieger's skills as a songwriter shine. His distinctive vocals, already strong in his younger years, soar while his melodies and lyrics reveal the soul of a songwriter still reaching for greater possibilities.
"Doug was very, very, serious about music... I don't just mean that he practiced the guitar for six hours a day - I mean that music was the cornerstone of his Being... to say that he lived rock 'n' roll sounds like such a trite cliché but he actually did live a life centered around rock n roll!" Don Was remembers.
The tracks on the album span a wide range, from raw and gritty (Ambition) to poignant and pleading (You Gotta Be There), yet remaining true to pop roots. But Fieger's newer compositions demonstrate the growth, style and sophistication that can only be achieved by a true artist practicing the craft he loves: Rock and roll.
He knew exactly what he wanted and it was highly rewarding to help him get there," continues Was. "Especially surrounded by cats like Nicky Hopkins, Billy Preston and Jim Keltner. The budget was miniscule - we had enough bread to record around the clock (sober!) for about a week. Twenty years later, I remember it like a camping trip - a bunch of guys sitting around the "fire" (that beautiful old Neve RCA 8028 console in Oceanway Studio 2) relaxing, telling stories and singing songs... There was a lot of joy in those tracks!"
This is the first of several scheduled releases of Doug Fieger's recordings. The appropriately titled First Things First, is an important initial testimony to the unfulfilled potential of this extraordinary talent. It gives voice to what might have been, and in so doing, begins a journey toward solidifying the legacy of what was.
Track Listing:
1. Nothing's Easy
2. Shake Me
3. Wishing Doesn't Make It So
4. Ambition
5. You Gotta Be There
6. Lie To Me
7. Praying For You
8. Without You
9. She Says
10. Right of Center
11. We All Ride Alone
12. Hour of the Storm
13. Love Hurts
For more information, please visit: http://www.dougfieger.com
For a review copy of the album, please contact Heather Noonan at pr(at)bfmdigital(dot)com or 818-762-0191.
About BFM Digital, Inc.
BFM Digital is a global digital music company committed to serving the independent music community and delivering quality music, spoken word and video content to leading online retailers worldwide. Representing a diverse catalog of indie labels, artists and publishers, BFM distributes to all of the major music services including iTunes, Amazon, Rhapsody, eMusic, Napster, Walmart, Nokia and many more. With an unparalleled commitment to personalized service, BFM works closely with their content providers from around the world to ensure maximum exposure of their catalog by customizing marketing efforts and building strong relationships with BFM's digital store partners.
###