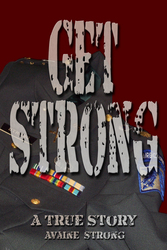 Wisdom lies in the ability to decide between that which is true and that which is false…
(Vocus) October 5, 2010
Get Strong: A True Story, a new book by Avaine Strong, has been released by Dorrance Publishing Co., Inc.
Get Strong: A True Story documents the struggles of a Southern family, centering on one member, Avaine Strong; a former military man who is far from being persnickety. One may question his bravado in that, he would much rather walk away than to fight; a much different person surfaces when faced with nefarious situations. Many obstacles have surfaced along his quest to attain love, liberty, and happiness. One significant obstacle proved to be struggles with his own personal demons while other integral parts resulted from struggles to avoid becoming the prey of selfish demigods he encountered on his journey. Like never before it was in the oppressive state of South Carolina that all of the negatives banded together in the mid 1990s. Courts in our nation's capital, including the Supreme Court, are not immune but a party to these vicious oppressive acts; they become accomplices in further fostering the denial of justice.
A considerable portion of Get Strong: A True Story centers around a plight for justice, commingled with attempts to sustain a healthy love life—all while pursuing a doctoral degree in physics. This book records the facts, as so should history; however, this is in direct contradiction to the Department of Justice's version of the truth.
The system has failed the average American citizen. Many are not able to fathom the idea that a US federal court could be associated with corruption, extortion, fraud, obstruction of justice, conspiracy, and racketeering. Although it goes against our Constitution, America is becoming increasingly totalitarian. We have come to accept the government's side of the story with complete disregard to its veracity. The intent of this book is to set the record straight.
"Wisdom lies in the ability to decide between that which is true and that which is false…"
-Solomon.
Get Strong: A True Story is a 1094-page paperback with a retail price of $35.00. The ISBN is 978-1-4349-0405-8. It was published by Dorrance Publishing Co., Inc. of Pittsburgh, Pennsylvania. For more information or to request a review copy, please visit our virtual pressroom at http://www.dorrancepressroom.com or our online bookstore at http://www.dorrancebookstore.com.
###