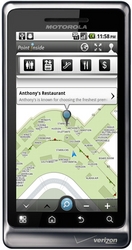 Bellevue, WA (PRWEB) October 5, 2010
Free app helps users find any restroom, gate, restaurant, store, etc. with industry's first interactive destination maps
Point Inside™, Inc. (http://www.pointinside.com) today announced the release of version 2.0 of its free, industry-leading Destination Smart Map™ application for Android-based phones. For the first time, Android consumers have free access to interactive, searchable maps and directories of over 800 of the world's top airports and shopping centers. No longer do people need to find a paper map or directory to locate restrooms, restaurants, stores, business lounges, etc., inside their destinations.
Point Inside Version 2.0 for Android joins its iPhone®, iPad® and iPod® Touch siblings as well as the recently released Meijer Find-it iPhone and Android applications as the first apps built on Point Inside's destination content platform.
"We've been listening to customer feedback and with this new release we think Android users will see a huge improvement in the app." said Kevin Foreman, CEO, Point Inside, Inc. "Not only do they now have access to all the latest airport and shopping center maps, but new destinations will be added seamlessly, without the need to update the software. Also, Android app developers can now access the underlying APIs to build their own unique experiences leveraging our maps and content platform."
According to market research firm, Gartner Research, the Android mobile operating system is expected to be the # 2 mobile smartphone operating system in 2010 and could reach # 1 by 2014. According to Gartner, Android-based handsets will reach 17.5% market share in 2010, up from 3.9% in 2009. Apple's iPhone operating system (iOS) will garner 15.4% of the market this year, up from 14.4% in 2009. By 2012, the research firm expects Android will challenge the Symbian OS as market-leader with 29.6 % of the market versus 30.2% for Symbian.
With this latest Point Inside release specifically for Android, users can now find stores, restaurants, gates, restrooms and other services in over 800 destinations. For example, here are some of the top airports and malls currently included in the application, with more being added all the time:
Airports:

Atlanta (ATL)
Boston Logan (BOS)
Chicago - O'Hare (ORD)
Dallas-Fort Worth (DFW)
Denver (DEN)
Houston - Bush (IAH)
Las Vegas (LAS)
London – Heathrow (LHR)
Los Angeles (LAX)
Miami (MIA)
NY - John F. Kennedy (JFK)
NY - LaGuardia (LGA)
Oakland (OAK)
Paris – Charles de Gaulle (CDG)
Phoenix Sky Harbor (PHX)
San Diego (SAN)
San Francisco (SFO)
San Jose (SJC)
Seattle-Tacoma (SEA)
Wash - Dulles (IAD)
Wash - Reagan National (DCA)
Shopping Centers:

Aventura Mall (Miami, FL)
Fashion Show Mall (Las Vegas, NV)
Houston Galleria (Houston, TX)
King of Prussia Mall (Philadelphia, PA
Mall of America (Bloomington, MN
Mill Creek Mall (Erie, PA
Roosevelt Field Mall (Garden City, NY
Sawgrass Mills (Ft. Lauderdale, FL
South Coast Plaza (Costa Mesa, CA
Tysons Corner Center (McLean, VA)
Woodfield Mall (Chicago, IL)
The Point Inside app can be downloaded from the Android Marketplace. Point Inside is also available for download on iPhone, iPad and iPod touch at http://www.itunes.com/appstore/. Video demonstrations of Point Inside in action can be found at: http://www.pointinside.com.
About Point Inside, Inc.
Point Inside™, Inc. has developed a mobile destination content platform that enables third parties to leverage Point Inside's maps, point of interest database and search capabilities. The platform is available for license, and licensees can integrate their own detailed, value-added information on top of Point Inside maps. Point Inside also offers consumers a free mobile application, "Point Inside Maps for Airports and Malls", on iOS and Android devices. Users can quickly find stores, gates, kiosks, restrooms, elevators, escalators, and other guest services in over 750 malls and airports. Founded in 2008 and based just outside of Seattle, Washington, the company is led by a team of executives with decades of experience developing mobile and Location Based Services (LBS) applications for companies such as Amazon, AT&T, Boeing, Qualcomm, and RealNetworks. Additional details can be found at: http://www.pointinside.com; Facebook: http://www.facebook.com/PointInside; Twitter: http://www.twitter.com/PointInside.
For more information, contact:
Emily Marshall, Point Inside, Inc. at emily(at)pointinside(dot)com or via mobile at 206-660-3304.
###