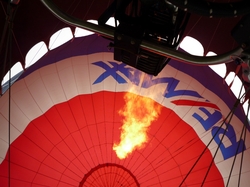 It's truly exciting to see Big Max in action, and even more exciting to be in the basket," says Broker Owner, Paul Turcotte. "Join us for a memorable experience, seeing the massive RE/MAX balloon in the heart of the city. Bring the family, & your camera!
(PRWEB) October 6, 2010
Big Max the RE/MAX hot air balloon will return to the Cambridge Common for Oktoberfest on Sunday October 10th from 3:30 to 5:30 PM, to provide tethered balloon rides courtesy of RE/MAX Destiny and RE/MAX of New England, weather permitting.
Donations from the balloon rides will benefit two local charities: Our Place Homeless Children's Center in Cambridge, providing quality daycare for over one hundred children per year, through The Salvation Army. Cambridge Housing Assistance Fund, CHAF, an 11 year old public/private partnership that brings local Realtors, banks, businesses and individuals together to raise funds to assist with rental housing for homeless families. The non-profit organization HomeStart administers CHAF funds. Learn more at http://www.chafund.org and http://www.homestartinc.org .
"It is truly impressive and exciting to see Big Max, a seven story hot air balloon rising up on the Cambridge Common. This is a rare opportunity and Chris Mooney, the pilot, is a master and really makes the experience fun," said RE/MAX Destiny Broker Owner Paul Turcotte.
Big Max on the Common slide show
Team members will be in Harvard Square and on the commons handing out helium balloons prior to the tethered rides on the Common. RE/MAX Destiny has been a sponsor since 2008.
RE/MAX Destiny is an independent Cambridge real estate company founded in 1999 and a proud member of the RE/MAX network of over 90,000 professionals in 85 countries. No One Sells More Real Estate Than RE/MAX. http://www.remax.com.
###