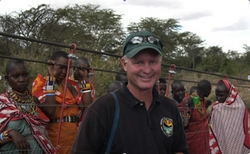 "Our bridges provide safety from the dangers of impassable rivers that threaten lives daily. Every life is important to us!"
Lexington, KY (PRWEB) October 5, 2010
Bridging the Gap founder, Harmon Parker, has been named one of the Top Ten CNN Heroes of 2010 for his work in building footbridges in Kenya that bring hope and inspiration along with safe access to education, health care, commerce and families. He will receive $25,000 and will be honored at CNN Heroes: An All-Star Tribute, hosted by CNN anchor, Anderson Cooper that will air on Thanksgiving Day, November 25th, at 8pmEST/5pm PT from the Shrine Auditorium in Los Angeles. CNN has also opened the online voting process by which anyone can place votes as often as they want for their favorite candidate. The person receiving the most votes will be named the CNN Hero of the Year and will receive an additional $100,000 for their non-profit organization. CNN will announce the Hero of the Year at the November All Star Tribute.
"This recognition will give us a platform to communicate the need for life-saving bridges for thousands of marginalized communities in East Africa," Parker says. "Our bridges provide safety from the dangers of impassable rivers that threaten lives daily. Every life is important to us!"
As a Christian developmental worker in Africa over the last twenty years, Harmon Parker has gained an understanding of the culture and needs of marginalized communities in Kenya that has led him to a unique and valuable role in offering them hope so that lives will be saved through his bridge building efforts. His most notable contribution came when he saw the dangerous river crossings they make on a daily basis to attend schools, markets, health clinics and to visit family in other villages. He built his first bridge in 1996. As the demand for more bridges grew, he created "Bridging the Gap" in 2003 to construct footbridges that keep these people, especially children, women and the elderly, out of these treacherous waters. Over the past thirteen years, he has built more than 45 footbridges in Kenya.
Parker believes in helping communities help themselves by empowering and enabling them to participate in the bridge-building process. Communities get involved through Parker's "IPO" process: Initiative, Participation, and Ownership. This starts with the communities taking the Initiative to request a bridge, then Participating in the construction, and finally celebrating Ownership of their bridge. This process insures that the local communities take responsibility for the bridge that they built together.
Parker was raised in Lexington, Kentucky, and married his wife Teri in 1984. Their 23 year-old son, Josh, who was born in Lexington, and recently graduated from Azusa Pacific University with a degree in Sociology. Josh has returned to Africa and is currently working with a relief organization in southern Sudan. Teri, a native of San Jose, CA, is Bridging the Gap's Kenya Office Manager and is an incredible hostess for the many visitors who visit the Parker home. The Parkers have lived in Kenya for the past 19 years. Parker enjoys playing guitar, golfing, and spending time with his family and friends.
Anyone can vote for Parker as often as they wish until 6 am EST on November 18. Please visit: http://www.cnn.com/SPECIALS/cnn.heroes/archive10/harmon.parker.html.
For information about Bridging the Gap go to: bridgingthegapafrica.org
The need is great! The need is now! Demand for bridges far outweighs our current financial capacity - we need your help. Please consider partnering with us:
Building Bridges ~ Transforming Lives
There are two ways to help:
1. Vote for Harmon Parker as CNN Hero of the Year
http://www.cnn.com/SPECIALS/cnn.heroes/archive10/harmon.parker.html.
2. Donate, and get your community and company involved with donations.
http://www.bridgingthegapafrica.org.
Contact: Rob Doughty
Bridging the Gap
(305) 495-3311
Editor's Note: Harmon Parker will be in the United States and available for media interviews from mid-October to mid-November. Please contact Rob Doughty for more details.
###