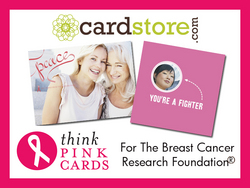 The Breast Cancer Research Foundation is honored to have Cardstore.com as a partner in our fight against breast cancer
Berkeley, CA (Vocus) October 5, 2010
Holiday cards and thank you cards retailer Cardstore.com today announced the introduction of Think Pink Cards—a new line of greeting cards designed to support breast cancer awareness and research.
With 40% of sales going to The Breast Cancer Research Foundation, this Cardstore.com collection of over 70 pink-inspired cards is out to make a difference. Launched in October 2010, just in time for Breast Cancer Awareness Month, the Cardstore.com collection of Think Pink Cards will continue year-round.
Think Pink Cards include brand new designs, as well as exclusive pink-themed versions of top-selling Cardstore.com cards. Appealing to a wide variety of tastes and interests, there are designs that fit every occasion, including designs for the upcoming holiday season. No matter the reason or the season, every card from Think Pink Cards is guaranteed to make a difference.
"Fighting Breast Cancer is not only important to our business, as 70% of our customers are women, but a cause close to our hearts as I recently lost my mom to this disease," says Cardstore.com Creative Director Katy Greenspan, adding, "our work on this project has been in tribute to an amazing lady with hope for a future without breast cancer."
The Breast Cancer Research Foundation is an independent not-for-profit organization whose mission is to achieve prevention and a cure for breast cancer in our lifetime by providing critical funding for innovative research at leading medical centers worldwide and increasing public awareness about good breast health.
Since its inception in 1993, BCRF has raised over $290 million in support of this mission. Currently, over 88 cents of every dollar donated goes to research and awareness programs.
"The Breast Cancer Research Foundation is honored to have Cardstore.com as a partner in our fight against breast cancer," said Myra Biblowit, President of The Breast Cancer Research Foundation. "In addition to sending inspirational messages, the cards will also support innovative clinical and translational research at leading medical centers worldwide."
About Cardstore.com
Cardstore.com is a Berkeley, California-based holiday cards, thank you cards, and wedding cards retailer that combines online customization with designs from over 70 independent artists. Since 1999, the company has printed over 50 million personalized cards, and uses 100% post-consumer recycled cardstock. Cardstore.com provides custom greeting cards and personalized stationery for all occasions including photo cards, birthday cards, holiday photo cards, graduation announcements, and wedding invitations.
###