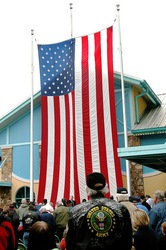 Gatlinburg, TN (Vocus) October 5, 2010
Every year since 2000, the City of Gatlinburg hosts a very special event on November 11 to honor our nation's veterans in a fitting and appropriate manner. The title "Gatlinburg Veterans Day Celebration" is an accurate description of the event in that the service and sacrifices made by our veterans are celebrated with the intent to thank those who gave – and continue to give - so much to keep our nation free.
An official Regional Site for the Observance of Veterans Day as designated by Veterans Day National Committee, Department of Veterans Affairs, the Gatlinburg Veterans Day Celebration features several meaningful elements having broad appeal – giving those in attendance who are not veterans, particularly the children and youths present, a better insight as to why we should honor our veterans.
The festivities at Ripley's Aquarium of the Smokies Plaza start at 11 a.m., and typically feature a military flyover, a stirring salute to the Branches of Service, and a keynote address from a very notable Veteran.
The free-admission event is held on the plaza at one of Gatlinburg's most popular attractions, Ripley's Aquarium of the Smokies. The space features flag poles large enough to display a giant 20' x 30' American Flag, along with seating space for hundreds of attendees.
Those attendees come from across the nation; Gatlinburg is a small city of only 3,500 permanent residents but attracts more than 9 million people annually with its many attractions and its proximity to Great Smoky Mountains National Park.
Past community involvement has included Gatlinburg Police Department Captain Jim Maples, a Vietnam veteran who presents the MIA/POW Table; and the American Eagle Foundation displaying "Mr. Lincoln," an American Bald Eagle in their care, along with the talents of many local musicians. Keynote speakers have included Major General Gus Hargett – Adjutant General of Tennessee – and General Carl Stiner – retired Commander in Chief of U.S. Special Operations Command.
A second American Flag measuring 20'x30' is placed with care on the roof of Ripley's Aquarium of the Smokies as a salute to Military Aviators flying missions on Veterans Day.
###