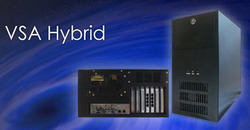 Any combination of IP and analog cameras can be directly connected to the VSA via 4-port PoE cards and 8- port H.264 encoder cards.
Norfolk, VA (PRWEB) October 5, 2010
ipConfigure announces the launch of its Hybrid Video Surveillance Appliance (VSA), the first surveillance platform offering integrated support for both analog and IP cameras with ipConfigure's flagship product, Enterprise Surveillance Manager (ESM). The VSA Hybrid was designed to meet the needs of a large Government customer to replace their obsolete analog DVR's, which is relevant for 80% of the surveillance market. The Hybrid supports both analog cameras and next generation IP cameras. Any combination of IP and analog cameras can be directly connected to the VSA via 4-port PoE cards and 8- port H.264 encoder cards. In total, the VSA Hybrid can support 64 analog cameras or 24 IP cameras – more if using an external switch.
Each VSA comes preloaded with ipConfigure's Enterprise Surveillance Manager (licensed separately) as well as Windows Server 2008 Standard operating system and SQL Server 2008 Express database. Maximum performance is obtained by using an Intel quad-core processor, 4 GB of RAM, dual gigabit network interface cards, and an industrial grade 650 watt power supply. The Intel chipset provides the VSA with ample resources required to record at high resolutions and frame rates. These dependable appliances are shipped with two high-speed, 1TB or 2TB drives which can be preconfigured for maximum storage (RAID-0) or redundancy (RAID-1). All drives are built to run cool and quiet with enhanced vibration protection to ensure reliability and sustained data throughput.
Christopher Uiterwyk, Founder and Chief Executive Officer of ipConfigure explains, "The Hybrid VSA addresses 80% of the video surveillance market (analog) and gives customers the option to transition to IP all in a single platform. With built-in POE network ports, both resellers and customers alike with find the deployment process very similar to analog cameras. The VSA Hybrid will continue to accelerated the convergence from analog to IP in Video Surveillance industry."
About ipConfigure
Founded in 2003, ipConfigure is a privately owned software company and a leading developer of enterprise IP video surveillance solutions. ipConfigure has successfully deployed systems in facilities ranging from nuclear power plants to universities all based on a non-proprietary architecture which supports third-party IP cameras, servers, storage, and switching hardware. ipConfigure is committed to an open architecture and will continue to facilitate the convergence of physical security and IT technologies by integrating both building and life safety systems through a seamless enterprise solution.
###