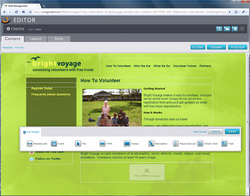 Web Content Management has been around for more than ten years and is still too complex, too costly, and too inflexible – it's just not working for too many people in the market
Woburn, MA (Vocus) October 5, 2010
Percussion Software, the vendor dedicated to simplifying Web Content Management (WCM), today announced the immediate availability of CM1, a new web content management system that enables organizations to create, deploy, and maintain sophisticated websites with no development required.
Percussion CM1 is intended for marketing teams who don't have access to development resources but still want to quickly build and manage highly interactive, social, scalable websites and open up content contribution to users across their organizations.
"Web Content Management has been around for more than ten years and is still too complex, too costly, and too inflexible – it's just not working for too many people in the market," said Vern Imrich, Chief Technical Officer at Percussion. "Percussion is on a mission to change that."
CM1 replaces costly and complex development with an entirely drag-and-drop interface, not only for contributors, but also for website designers and administrators.
With CM1, business users can:

Create and modify page templates by simply dragging and dropping regions onto pages.
Use a library of out-of-the-box widgets to add functionality and interactivity to pages.
Leverage in-context (WYSIWYG) or form-based content editors to allow any user to easily add content.
Reuse content assets across their website.
Integrate social media content from sources such as Twitter, YouTube, Flickr, and Facebook with a few clicks.
Create SEO-friendly pages and clean URLs.
Preview and stage content before it goes live.
Control workflows and tiered user administration.
Manage an unlimited number of websites from within the same system.
CM1 is based on Percussion's enterprise platform, CM System, used by organizations such as Hotwire.com, the US Department of Health and Human Services and Virginia Tech University.
"With CM System, we make WCM easier to integrate for customers looking for an alternative to the "all in one suite" systems," said Joseph Wykes, President of Percussion. "Now with CM1 we can put WCM within reach of organizations that are currently limited to tools like Dreamweaver and Wordpress to manage their websites. They need the capabilities of a real CMS, such as content re-use, open authoring and workflow, but do not have the development skills or budget to maintain open source systems."
As part of an agile go-to-market and development methodology, Percussion made CM1 available for purchase by early adopters this summer.
Salary.com, a leading provider of on-demand human resources software chose CM1 for their Employer site. "It's tremendously easy to use, which means that our website is no longer dependent on one person," said Richard Luongo, Senior Graphic Designer. "It used to take us 48 hours to change a comma. Now it takes seconds."
Luongo added "Salary.com was built using custom html for every page, with edits outsourced to developers. We needed a CMS. We were sold on Joomla, until we had an alternative that didn't require development, which we discovered in CM1. And the price point was perfect."
Georgia Southwestern State University was also among the early buyers of the new system. "We were searching for a CMS for some time, and CM1 provided exactly what we needed to better manage our website at a cost that was very attractive to us," said Stephen Snyder, Public Relations Director for Georgia Southwestern State University. "In CM1, nothing was unnecessary - all of the questions we had in finding the right product were answered."
Percussion CM1 is available immediately – to learn more go to: http://www.percussion.com/products/cm1/overview/
# # #