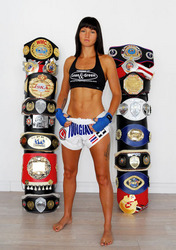 Burbank, CA (PRWEB) October 5, 2010
Champions of Champions Elite has duel successes with televised series and Live event for Making the Rounds with COC Elite bar contest in downtown Los Angeles.
MAKING THE ROUNDS WITH COC ELITE CONTEST
Champions of Champions Elites contest to find the best Sports Bars in America proved a smash hit this past Friday evening with the crowd at Big Wangs Sports Bar in downtown Los Angeles, California.
COC Elite took the contest on the road brining in five time World Title holder Clifton Brown and his training partner Reginald Ching for a live demonstration of Muay Thai for an enthusiastic crowd. Brown demonstrated the power of Muay Thai kicks and punches then invited the crowd to join in and showcase their own kicking skills. Several Men and Women including staff and management from Big Wangs took on the challenge getting the event off to a resounding start.
Along with showing the fights from the COC Elite series, there were contests and giveaways throughout the night. There was also a contest to find the perfect drink to be featured as the COC Elite Drink of the month. The crowd favorite was the Wang Banger! The drink will be featured on the COC Elite website, http://www.cocelite.com for the month.
COC Elite invites bars from across America to enter the contest by registering and uploading a video telling members of the website why they should be voted as the best Bar in America. COC Elite will tape a live event at the winning bar bringing in its production team and the COC Elite team along with the winner of the COC Elite/GotCast Spokes Model search contest.
Big Wangs is located at 801 N. Grand, Los Angeles, and Ca. 90017. 213.629.2449. http://www.bigwangs.com
TREMEMDOUS FIGHT CARD EXCITES
COC Elite is on a mission to demonstrate why Muay Thai is a global happening that offers the most diverse global cadre of fighters from around the world. This months card featured Julie Kitchen from London, Angela Parr from Australia by way of California, Yodsaenklai Fairtex from Thailand and Cosmo Alexandre from Brazil. North America is quickly finding out what the rest of the world is already aware of, that the WMC has an amazing stable of Men and Women fighters.
FIGHT RECAP
Yodsaenklai vs. Alexandre for the WMC World Middleweight Championship
Yodsaenklai came into the night on an amazing 10 fight winning streak and was intent on showing why many consider him to be the best pound for pound fighter in Muay Thai. Alexander having taken the fight at the virtual last minute after Artem Levin was unable to make his way to Jamaica wanted to do more than survive. In the end his lack of preparation for such an important fight proved to be his undoing.
Yodsaenklai is a relentless attacker and when he finds something to go after like Aleixandre's legs the result is inevitable. Throughout the night it became evident that Alexandre had no responses to Yodsaenklai attack and did little to gain an edge or a way into the fight. There were glimpses into why many consider Alexandre a fighter on the way up and evidence of why he has two title belts under his wing, but it simply wasn't enough to battle into a fight with Yodsaenklai on this night.
Round One:
Yodsaenklai comes out and immediately establishes his position to carry the fight to Alexandre with a heavy leg attack to Alexandre. Alexandre seemed unwilling to open up only occasionally exhibiting flashes of the talent that people have come to expect from him.
Round to Yodsaenklai
Round Two:
Again Yodsaenklai presses forward beginning to open up with both his hands and elbows forcing Alexandre to the ropes repeatedly. Alexandre tried to keep Yodsaenklai at distance with push kicks but is unsuccessful. Yodsaenklai is unfazed and continues attack an uncertain Alexandre.
Round to Yodsaenklai
Round Three:
Sensing that the fight is building out of his reach Alexandre finally begins to open up and lands a few heavy shots of his own. Yodsaenklai doesn't waver from his strategy and fights back effectively. Towards the end of the round Yodsaenklai catches Alexandre with a huge uppercut against the ropes and Alexandre finally shoots back with a hard right hand but Yodsaenklai simply dances back to his corner unfazed.
Round to Yodsaenklai
Round Four:
Begins much the same as the others with Yodsaenklai backing Alexandre up. Suddenly Yodsaenklai landed a devastating thigh kick that sends Alexandre to the canvas. Yodsaenklai relentless attack to the legs of the Brazilian challenger finally taking its toll as Alexandre is unable to stand on his back leg.
Round and win to Yodsaenklai by TKO.
Kitchen vs. Parr for the WMC Women's Super Lightweight Championship
For Julie Kitchen this was a fight to erase the sting of a loss at Champions of Champions I last year in Jamaica. For Angela Parr it was about continuing to establish herself as a member of the top shelf Women fighters in Muay Thai as well as representing the family along with her husband John Wayne as Muay Thais "First Family".
This was an amazingly close fight with both Women staying with a game plan that neither would waiver from throughout the night. Both Women showed that the Women of the WMC are as ferocious in battle as the men. Both elected to forego the usual two minute 3 round fights normally dictated for Women and fight 5 three minute rounds just as the men. The result was a hard fought battle that had the audience engaged and entertained. It also proved that the Men weren't the only fighters to bring excitement to the ring.
The night however belonged to Kitchen who since her last showing in Jamaica had been on a personal quest to set herself as the pre-eminent Woman in the WMC.
Round One:
Both Fighters come out cautiously at the start of the round. Kitchen seems content to use her length to her advantage keeping Parr at distance with her legs then moving in quickly to land enough punches to let Parr know she is willing to mix things up. Parr shows an impressive push kick as a counter to stave off Kitchens rushes for the rest of the round.
Round to Kitchen
Round Two:
Kitchen opens up being more aggressive and closes the distance landing several knees to the body of Parr and landing sharp elbows to break down Parr's defenses inside. Parr manages to land some hard shots of her own to make sure that Kitchen stays honest in her attack. Kitchen appears satisfied with her own strategy and doesn't waver.
Round to Kitchen
Round Three:
Parr opens the round by pressing to bring the fight closer getting inside the Kitchen defense. Kitchen is determined to keep the fight at distance until she sees an opening to attack. After a brief exchange Parr slips to the canvas. Once u she is immediately on the attack only to be pushed back by Kitchen. Both fighters have their moments in what proves to be a close round.
Round to Kitchen
Round Four:
Kitchen continues to do her best work at length and in the clinches where her knees and elbows are having an impact. Parr has her most effective round. Kitchen continues to walk down Parr forcing her into clinches or against the ropes where she has not been able to find an effective defense all night. Kitchen ends the round with an effective straight kick to the head of Parr.
Round to Kitchen
Round Five:
Both Women come out determined not to leave the outcome to chance. Neither show signs of backing off their strategies nor press to establish control of the final round. Kitchen begins to let her hands fly following up right hand leads with cross elbows while Parr continues to land the stronger punches. Kitchen closes the round by bringing the fight to the clinches and lands several good knees and elbows.
Round to Kitchen:
Kitchen wins by decision.
For more information and fighter profiles on Yodsaenklai Fairtex, Cosmo Alexandre, Julie Kitchen and Angele Rivera-Parr go to the COC Elite website. http://www.coc-elite.com
Join Risarc Productions and Champions of Champions Elite and coverage of the Kings Cup for our next broadcast on October 22nd.
Where to Get the 411 ON Champions of Champions
Got to the Champions of Champions Elite website for more information on this exciting new Fight Series. http://www.coc-elite.com
COC Elite Schedule Air Date (Check your local cable listings for G4)
Friday October 22nd: 8:00pm – 9:00pm
Friday November 19th: 8:00pm – 9:00pm
Friday December 17th: 8:00pm – 9:00pm
What: Champion of Champions Elite
When: October 22nd, Friday 8:00pm – 9:00pm (Check your local cable listings for exact broadcast time on G4)
Website: http://www.coc-elite.com
A 2010 Risarc Productions Inc Production. All rights reserved.
###