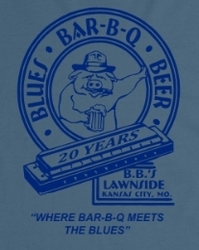 From the beginning, we wanted to showcase what Kansas City does best… slow-smoked barbeque and the blues
Kansas City, Mo. (Vocus) October 5, 2010
Twenty years ago – Oct. 15, 1990 – B.B.'s Lawnside BBQ opened its doors, becoming one of the few destinations in Kansas City, "where BBQ meets the blues."
"From the beginning, we wanted to showcase what Kansas City does best… slow-smoked barbeque and the blues," said Lindsay Shannon, B.B.'s Lawnside BBQ proprietor. "B.B.'s provides a truly unique Kansas City experience, offering traditional barbecue fare, signature Louisiana dishes and some of the best national and local blues performers."
Because of its reputation as an authentic roadhouse juke-joint, B.B.'s has received national attention from NBC's Today Show, Travel Channel, and The New York Times.
Also, Lindsay Shannon has been playing blues records Sunday nights on KCFX 101 The Fox for almost 25 years (Jan. 2011). The show has given him the platform to expose some of his favorite blues artists, and the opportunity to bring notables to Kansas City, including Magic Slim, Louisiana Red, Robert Lockwood Jr., Honeyboy Edwards, even Aerosmith's guitarist Joe Perry made a guest appearance with a B.B.'s regular, Lee McBee.
To celebrate the 20th anniversary, B.B.'s will host special musical guest Eddie Shaw and the Wolf Gang. Shaw is a legendary blues saxophonist who has played with such icons as Howlin' Wolf and George Thorogood. Shaw performed during B.B's 14th anniversary.
"Nominated this year for a Blues Music Award for his DVD with George Thorogood and The Destroyers, Down at The Crossroads, Shaw is the highest profile sax player in blues. A walking encyclopedia of blues history, he's played or recorded with everyone from Ike Turner, Magic Sam, Freddie King, and Willie Dixon to B.B. King." ~ Don Wilcox, Blues Revue Magazine, June/July 2010
In addition to Shaw, B.B.'s has booked some special blues artists to perform throughout October:
Oct. 22 – Tribute to Provine "Little" Hatch by The Hatchlings with special guests
Oct. 23 – Henry Clay & the Full-Grown Men (Big-boned harmonica from Columbia, Mo.)
Oct. 29 – Paul Geremia (Master country blues finger-picker)
But the celebration will continue throughout the entire year. B.B.'s will make special edition merchandise available, including t-shirts, cups, pint glasses, and more. Plus, B.B.'s will offer special discounts on food. Details will be posted on B.B's Lawnside BBQ website, facebook and Twitter.
###