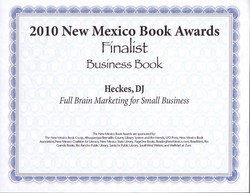 to honor the best of Southwestern literature.
Albuquerque, NM (Vocus) October 5, 2010
Full BRAIN Marketing – for the small business by DJ Heckes has been named a finalist in the Business Book category of the 2010 New Mexico Book Awards. The purpose of the New Mexico Book Awards is "to honor the best of Southwestern literature." Each year, a distinguished panel of scholars and librarians judge this regional book competition. The winners and finalists will be highlighted on November 19, 2010 during the 2010 New Mexico Book Awards Banquet at the MCM Elegante Hotel in Albuquerque, New Mexico. Attendees will include book buyers, library representatives, media, industry professionals, and others.
About the award, Heckes says, "What an honor to be a finalist for this prestigious regional competition. We are proud of our New Mexico roots and know that this award will attract new national readers as a result – which is good for business. Full BRAIN Marketing testimonials demonstrate that small and medium sized business owners have used the book as a blueprint for successful business expansion, helping our nation in its economic recovery."
"It's no longer just a right brain (creative) or a left brain (logical) world," says Heckes, award-winning CEO of EXHIB-IT! Tradeshow Marketing Experts and former National Board member of the American Marketing Association. "Full BRAIN Marketing shortens the marketing learning curve for busy small business owners. This book makes the marketing revolution manageable. Full BRAIN Marketing gives businesses tools to connect with customers in new ways today." Heckes provides entrepreneurs with a road map for success based on her own experience coupled with expertise gleaned over the years from her favorite marketing and management gurus including Seth Godin, Bob Berg, Jim Collins, Michael E. Gerber, Dale Carnegie, Allen Fishman, Zig Ziglar, and David Allen. Full BRAIN Marketing was recently featured in the first of a two-part excerpt on WomenEntrepreneur.com. In the coming months, Heckes will also appear as a guest blogger on WomenEntrepreneur.com , which has been included in the Forbes list of "Top 100 Websites for Women."
Full BRAIN Marketing – for the small business (ISBN 978-1-4392-5679-4) is available online in paperback, audio, and Kindle at the author's website, as well as Amazon.com, BarnesandNoble.com, and select independent booksellers.
About the author:
DJ Heckes, owner and CEO of EXHIB-IT! Tradeshow Marketing Experts and published author of Full BRAIN Marketing—for the small business, is truly passionate about two things: her clients and marketing. EXHIB-IT! is a GSA & Woman-owned small business headquartered in Albuquerque, NM. DJ started EXHIB-IT! in 2000 in her bedroom with just a computer and a telephone, and has since built a multi-million dollar company. In May of 2009, amid the recession, she opened a new division, Studio E Design and Production, which attracted 24.8% new business in six months. DJ's book, Full BRAIN Marketing—for the small business - discusses how, if done properly, marketing can be accomplished more easily and with a far greater rate of success. The book explores and uncovers some of the ways to tie in traditional, digital and social media marketing to lead a business to profitability and avoid unnecessary mistakes, obstacles and easily avoided failures. For more information, please contact DJ Heckes at (505) 828-0574 or visit http://www.FullBRAINMarketing.com.
# # #