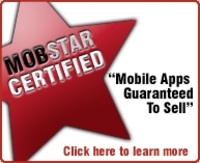 For mobile users; the MOBSTAR CERTIFIED logo is one they can trust when purchasing mobile media or an app from an app store or network operator."
San Francisco, CA (PRWEB) October 6, 2010
Mob4Hire, the world's largest mobile testing and market research community, today announced its launch of their MOBSTAR CERTIFIED program.
Having the MOBSTAR CERTIFIED logo on a mobile product or service means that it is a high-quality premium product with exceptional growth potential.. A MOBSTAR rating reflects the users' overall loyalty toward the how a business's app or web mobile experience. Specifically, the MOBSTAR rating indicates how much people will recommend it, what they will say about it … all of which leads to more downloads from repeat business / word-of-mouth through viral and social media.
Currently, in the mobile world, customer loyalty is reflected in the "user star ratings and reviews" found in app stores. They are typically a 1 to 5 star rating, and then a twitter-length comment from the user, ranging from "Nice app" to "Sucks. Epic fail." All of them are important to potential customers who are reading the reviews while contemplating whether they should download/purchase your app.
The importance of a top quality 5-star rating cannot be overstated. With 400,000 mobile apps now being offered in over 80 app stores, it's tough to get noticed. Mob4Hire released a research report "The Impact of Mobile Apps on Network Operator Customer Loyalty" that found smartphone users will only download 4 or 5 star rated apps.
Recent statistics from the Android marketplace validate this research. According to stats available at http://www.androlib.com, 48% of the 130,000 Android apps have been downloaded less than 50 times, and not surprisingly, 40% of all apps are rated 1, 2 or 3 stars. There is a direct correlation between star ratings and its revenue performance. This 5-star importance sometimes leads to mobile publishers "gaming" the system by posting anonymous 5-star ratings and reviews.
"It is time for a qualified, independent, 3rd party review system that is focused on mobile apps and their quality," says Stephen King, CEO of Mob4Hire. "In our opinion, App store rating systems are becoming unreliable due to the fact that they aren't controlled and contain voting bias … and thus, don't necessarily reflect the true quality of the software."
A MOBSTAR CERTIFIED logo demonstrates to the public that a mobile app has gone through a rigorous usability testing process … in other words, real people who live a mobile lifestyle have helped create a four or five star app with their feedback.
Developed in conjunction with http://www.BusinessOverBroadway.com loyalty scientist, Dr. Bob Hayes (Seattle), the MOBSTAR Rating System is included as part of Mob4Hire's mobile usability products:

MobExperience: Pre-release usability and user experience feedback that helps mobile firms and media publishers make great mobile apps and websites
MobAccelerator: Post-release usability, and marketing research about app store Discovery and Competitive products that allow mobile firms iterate quickly on their quality, as well as guide marketing teams to strategic positioning.
"The MOBSTAR Rating system is about two things. It's tricky to make great mobile apps, so, the first is to help mobile and content firms get to market with their best effort in the eyes of their users… this leads to 4 and 5 star user reviews, " says Stephen King, CEO. "The second is for mobile users; the MOBSTAR CERTIFIED logo is one they can trust when purchasing mobile media or an app from an app store or network operator."
For Network Operators, embracing the MOBSTAR CERTIFIED program is a way to ensure they offer only the best apps to their customers.
"We expect Telecoms to be very excited about MOBSTAR," adds Dr. Hayes, "as it gives them a chance to greatly reduce service and support costs due to bad mobile apps while elevating the overall quality of their mobile experience. By having a small subset of their own mobile users beta test and identify quality potential app offerings, network operators can virtually guarantee that their larger subscriber base will love the apps. This in turn leads to viral growth."
With over 50,000 mobile testers in 152 countries, and 1,700 registered mobile developers, Mob4Hire is experiencing a rapid increase in the number of testing and market research projects since the release of its V4.0 platform in April 2010. This is attributed to the growing demand for both the quantity of mobile apps and websites, and also because the quality of those applications as it relates to the mobile user experience is essential for revenue growth for mobile firms.
Mob4Hire also announced recently launched V4.2.1 of its platform, featuring innovations such as Mandatory Handset Identification, Facebook Connect, CrowdFlow Management and Project Wall tools, improvements to its mobile site, and advanced double-entry accounting and audit tools for its eCommerce micro-payment architecture (Mob4Hire as a Platform).
# # #