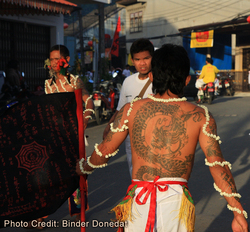 Singapore (Vocus) October 6, 2010
Agoda.com, Asia's global hotel booking site and part of Nasdaq-listed priceline.com Incorporated, has secured some tasty last-minute rates for the Vegetarian Festival in Phuket.
Originating from the Chinese 'Nine Emperor Gods Festival', the Phuket Vegetarian Festival involves some surprisingly grisly rituals and is subsequently one of the most photographed events in Thailand. Held in the ninth lunar month according to the Chinese calendar – this year from October 8 to 16 – the most compelling aspect of this Thai-Chinese festival is the procession from shrine to shrine of the ma song.
The mah song are religious devotees who perform acts of self-mutilation while channeling the Emperor Gods. These acts include walking over fire, climbing ladders fitted with blades and piercing the skin on the face and arms. Ma song most popularly pierce their cheeks with multiple metal spikes, however, saw blades, guns, tools and various household objects are also used. As gruesome as the piercings appear, while in their trance state, the mah song do not report any pain.
Visitors to Phuket can watch the procession as it moves from temple to temple, beginning on Sunday October 10 at Sapam Shrine, just a few kilometers from Phuket Town on the southeastern coast of the island. Each day of the festival, the ceremonies take place at a different shrine, giving observers the chance to not only witness one of Thailand's more unusual events but to see some of its most beautiful Taoist shrines. The last night of the festival is marked by a loud and elaborate fireworks display – the noise is believed to scare evil spirits away.
As can be expected, participants in the Vegetarian Festival must adhere to a strict vegetarian or vegan diet, refrain from drinking and obey a set of rules that promote spiritual purity, good hygiene and merit-making.
Travelers wanting to sample vegetarian Thai food during the festival will have no problem finding it, as both commercial shopping centers and street food vendors make special ahaan jeh (vegetarian) dishes and mark them with a red and yellow sticker. Some popular jeh foods are gui chai (glutinous rice balls with Chinese chives), goy see mee (noodles similar to Japanese soba) and poh piah jeh (vegetarian spring rolls).
Agoda has secured special rates for a selection of Phuket hotels to coincide with the Phuket Vegetarian Festival 2010. Visitors can lock in a low rate now to experience one of the world's most unforgettable religious festivals and enjoy extraordinary savings at the same time.
Phuket Special Hotel Rates
Dara Hotel – 3 stars
Agoda special rates from USD 27 per night. Minimum stay 3 nights. Valid until 16 October.
Lub Sbuy Guest House – 3 stars
Agoda Special Rates from USD 12 per night. Valid until 31 October.
Rome Place – 2 stars
Agoda Special Rates from USD 21 per night. Minimum stay 2 nights. Valid until 17 October.
Sino House – 3 stars
Agoda Special Rates from USD 29 per night. Valid until 16 October.
Rattana Mansion Hotel – 2 stars
Agoda Special Rates from USD 19 per night. Valid until 31 October.
Millennium Resort – 5 stars
Agoda Special Rates from USD 85 per night. Valid until 31 October.
Royal Paradise Hotel – 4 stars
Agoda Special Rates from USD 42 per night. Valid until 31 October.
Phuket Center Apartment – 2 stars
Agoda Special Rates from USD 18 per night. Valid until 31 October.
To learn more about the Phuket Vegetarian Festival, go to phuketvegetarian.com. For more information about Agoda, please email PR@agoda.com.
About Agoda Company Pte Ltd:
Agoda Company Pte Ltd (http://www.agoda.com) is a leading Asia-based, online hotel reservations company, which specializes in securing the lowest discount hotel prices. Agoda.com is part of Priceline.com (Nasdaq:PCLN). Agoda's network includes over 8,000 hotels in Asia-Pacific and more than 130,000 worldwide. The multinational staff of 450 professionals, located throughout the world, provides a first-rate reservation service that uniquely combines local knowledge and local connections to provide the best hotel deals to both business and leisure travelers.
In addition, Agoda customers participate in the Agoda Rewards Program, earning further discounts and free stays. Unlike programs that limit travelers to a single chain, the Agoda Rewards Program allows customers to redeem Rewards Points at thousands of hotels around the globe, at any time. A member of the Pacific Asia Travel Association (PATA), Agoda's aim is to promote travel by making it more affordable and more accessible to more people.
###