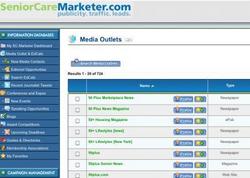 This new functionality helps our customers to use SeniorCareMarketer.com as a centralized hub for their media relations campaigns.
Capitola, CA (PRWEB) October 6, 2010
SeniorCareMarketer.com announced new functionality to its on-demand marketing and PR software that enables communications professionals to centrally manage, track and report on media and analyst outreach activities.
The upgrade is available from SeniorCareMarketer.com, the popular online marketing and public relations service for vendors who sell products and services to the elder care industry. Marketing and PR professionals can distribute press releases, send pitches and monitor editorial calendar inquiries directly from its media database, which profiles thousands of journalists, analysts and bloggers covering the senior care and healthcare markets.
Each profile includes the journalist's preferred contact method, specific coverage areas, social networking accounts and an up-to-the-minute listing of their "Tweets." Detailed editorial calendars are also shown for their related media outlets.
The new media and analyst relations feature allows customers to centrally track their outreach activities, including press releases sent to the respective contact, pitches and inquiries. For added functionality, customers can track follow-up activities with scheduled reminders that can be seamlessly added to the user's personal Outlook, iCal or other third-party calendar software.
New collaboration features allow multiple marketing team members to manage outreach activities in a single account and run detailed activity reports organized by type of outreach and the status of various activities. Additionally, by leveraging SeniorCareMarketer.com's e-clipping service, companies can identify and track media placements and coverage for their business or client.
"Many of our public relations customers use several stand-alone applications for their media and analyst outreach, which can be difficult to manage," said Elrond Lawrence, vice president of media relations. "This new functionality helps our customers to use SeniorCareMarketer.com as a centralized hub for their media relations campaigns."
About SeniorCareMarketer.com
A direct response to the growing senior care industry, SeniorCareMarketer.com combines databases of marketing and public relations opportunities with press release distribution, campaign management, SEO and social networking tools. The service offers the same marketing benefits that its highly successful sister product, HRmarketer.com, offers the human resource marketplace —the ability to generate publicity, website traffic, sales leads and improved search engine rankings. For more information, visit http://www.SeniorCareMarketer.com.
This press release was distributed through PR Web by Human Resources Marketer (SeniorCare Marketer: http://www.seniorcaremarketer.com) on behalf of the company listed above.
###