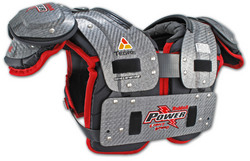 "I don't know how they do it, but those pads are the lightest I've ever worn," said Baltimore Ravens tailback Willis McGahee. "Every guy in the league is going to be wearing the LightSpeed by the end of the season, no doubt."
Spartanburg, SC (PRWEB) October 7, 2010
Milliken & Company today announced that Tegris®, a lightweight, high impact, thermoplastic composite has been selected by Riddell® for their next generation of Custom Power® Shoulder Pads – the LightSpeed™.
The new Shoulder Pads are the lightest shoulder pads in football. Combining state-of-the-art technologies with unparalleled comfort and protection, LightSpeed Shoulder Pads represent the latest addition to the Riddell Power family of shoulder pads. The pads are significantly lighter than conventional offerings yet still provide the protection that players at the highest levels expect.
Tegris, an innovation created by Milliken & Company, is primarily used as a composite armor material in military tactical vehicles protecting soldiers so that they can return home from their missions safely. Tegris is also being used in motorsports, watersports and construction applications.
"I don't know how they do it, but those pads are the lightest I've ever worn," said Baltimore Ravens tailback Willis McGahee. "Every guy in the league is going to be wearing the LightSpeed by the end of the season, no doubt."
About Milliken & Company
Milliken & Company, located in Spartanburg, South Carolina, is one of the largest privately held textile and chemical manufacturers in the world. The company strategy is focused on combining textile and chemical technologies in unique ways to serve a vast array of markets. Milliken's rich history of technological innovation has resulted in more than 2,000 patents and the development of the largest textile research center in the world.
About Riddell
Riddell, one of Easton-Bell's most well-known brands, is a premier designer, developer and marketer of helmets and protective equipment used by professional and amateur athletes in team sports. Founded in 1929, Riddell is a household name in competitive sports, particularly well known as the Official Helmet of the NFL® and also for inventions that include removable cleats used in football, baseball and track shoes; the first seamless basketball; and suspension systems for football helmets. Today, Riddell is the leading manufacturer of football helmets, shoulder pads, reconditioning services (cleaning, repairing, repainting and recertifying existing equipment) and collectible helmets.
Contacts:
Eric Brockman
National Sales Manager
(864) 503-1765
tegrisinfo(at)milliken(dot)com
http://tegris.milliken.com
###