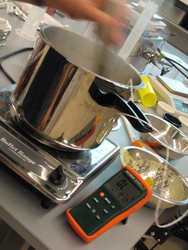 Vernon Hills, IL (Vocus) October 6, 2010
This fall, Harvard University, in collaboration with the Alícia Foundation, a nonprofit established by Chef Ferran Adrià, launched a well-received Science & Cooking Lecture Series and Course. Residing within the Harvard School of Engineering and Applied Sciences (SEAS), the course aims to study phenomena from chemistry to materials science to applied physics by examining cooking processes. In support of the university's efforts, Cole-Parmer donated laboratory equipment including thermometers, cooling and heating baths, balances, and waterproof pH pocket meters.
The lecturers and faculty for the course are as noteworthy as the subject matter itself. Guest chefs in addition to the acclaimed Ferran Adrià include José Andrés, Wylie Dufresne, and Grant Achatz, along with White House Pastry Chef Bill Yosses, master chocolatier Enric Rovira, and others. These culinary artists lecture alongside David Weitz, Mallinckrodt Professor of Physics and Applied Physics in SEAS and the Department of Physics, and Michael Brenner, Glover Professor of Applied Mathematics and Applied Physics in SEAS.
The course features a laboratory component which enables students to use the concepts of cooking to motivate experimental measurements on soft materials. Chef Adrià is considered a pioneer in applying scientific principles (such as manipulating the physical and chemical processes of cooking) to achieve culinary innovation.
To learn more about Cole-Parmer laboratory instruments and supplies, call 800-323-4340 or visit ColeParmer.com/8094.
Cole-Parmer has been a leading global source of laboratory and industrial fluid handling products, instrumentation, equipment, and supplies since 1955. Our product lines, including popular brand names such as Masterflex®, Oakton®, and more, are sold through company-owned customer channel outlets and a strong network of international dealers. We also feature an ISO-17025-accredited metrology lab for instrument calibration and repair. Cole-Parmer responds with excellence to customer needs, and offers application expertise and technical support. For more information, contact Cole-Parmer, 625 East Bunker Court, Vernon Hills, IL 60061. In the U.S., call 800-323-4340. International customers, call 847-549-7600. Visit us at http://www.coleparmer.com.
###