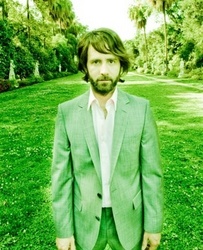 Razorfish is excited to collaborate with a widely acclaimed artist like AM. AM's smart and engaging music captures the essence of the Razorfish brand.
Chicago, IL (PRWEB) October 7, 2010 -
Razorfish today announced that indie musician AM, who has released "one of the great pop albums of the year," according to the U.K. Sunday Express, will perform for 700 Razorfish clients and employees at the 10th Razorfish Client Summit on October 13. His appearance is part of an ongoing co-branding relationship formed between Razorfish and AM.
At the Razorfish Client Summit, creative and marketing executives from the world's leading brands discuss the state of the art in marketing, technology and design. Guest speakers include Brian Dunn, CEO of Best Buy, and Mike Boylson, CMO of JCPenney.
At the event, Los Angeles-based AM will draw from his diverse music catalog, including his latest album, Future Sons & Daughters, which recently received a four-star rating from Q magazine in the United Kingdom.
According to Q, "AM displays a rare talent, juggling everything from steamy tropicalia, to acoustic ballads, to shimmering '702s pop."
AM and Razorfish continue to deepen a strong co-branding relationship, marking the first time Razorfish has worked with a musician in this capacity. To help AM gain exposure to potential fans and marketing partners, Razorfish is undertaking actions such as providing marketing counsel, streaming his music to 2,000 Razorfish employees across its offices and inviting him to perform at the Client Summit. To distribute AM's music across Razorfish offices, Razorfish and AM have also created a StickyBits application through which Razorfish employees use their mobile devices to download his music from barcodes embedded in post cards.
Razorfish and AM also recently launched a "Design a Poster" contest on http://www.creativeallies.com that invites artists, photographers and designers to nominate original designs for a poster to promote the vinyl release of Future Sons & Daughters. The winning design, judged by AM, his fans and Razorfish Vice President of Experience Design Andrew Crow, will be used in the promotional campaign.
AM said, "I'm always open to new ways to connect with people who will discover my music. Razorfish has been great at bridging the gap between my artistic sensibilities and aesthetic and the world of marketing."
David Deal, vice president of marketing for Razorfish, said, "Razorfish is excited to collaborate with a widely acclaimed artist like AM. AM's smart and engaging music captures the essence of the Razorfish brand."
Born in Tulsa, Oklahoma, and raised in New Orleans, Louisiana, AM combines several musical styles including pop, soul and R&B, tropicalia, British Invasion, and '60s psychedelia on Future Sons & Daughters. His music has been likened to Beck, Jeff Tweedy and Jim James of My Morning Jacket. AM recently toured with French electro-pop kings Air and indie chanteuse Charlotte Gainsbourg. Throughout the fall, he is touring in the United Kingdom and opening for Muse on the main stage at the Voodoo Festival in New Orleans Halloween weekend. His music has been featured on TV shows such as Friday Night Lights, Big Love, MTV's The Real World and Ashton Kutcher's move Spread. You may learn more about AM on amsounds, iTunes, MySpace, Facebook and Twitter. AM's fall tour dates are as follows:
October 10: Culture Collide Festival Los Angeles
October 18: Vicar Street, Dublin, Ireland
October 19: Forum, Waterford, Ireland
October 20: Academy, Birmingham, U.K.
October 21: ABC, Glasgow, Scotland (SOLD OUT)
October 22: U.K. TBA
October 23: Academy, Manchester, U.K.
October 24: Academy, Bristol, U.K.
October 25: Shepherds Bush Empire, London (SOLD OUT)
October 26: Water Rats London, U.K. (AM headlining)
About Razorfish
Razorfish creates experiences that build businesses. As one of the largest interactive marketing and technology companies in the world, Razorfish helps its clients build better brands by delivering business results through customer experiences. Razorfish combines the best thought leadership of the consulting world with the leading capabilities of the marketing services industry to support our clients' business needs, such as launching new products, repositioning a brand or participating in the social world. With a demonstrated commitment to innovation, Razorfish continues to cultivate our expertise in Social Influence Marketing, emerging media, creative design, analytics, technology and user experience. Razorfish has offices in markets across the United States, and in Australia, Brazil, China, France, Germany, Japan, Spain, Singapore and the United Kingdom. Clients include Carnival Cruise Lines, MillerCoors, Levi Strauss & Co., McDonald's and Starwood Hotels. With sister agencies Starcom MediaVest, ZenithOptimedia, Denuo and Digitas, Razorfish is part of Publicis Groupe's VivaKi, a global digital knowledge and resource center. Visit http://www.razorfish.com for more information. Follow Razorfish on Twitter at @razorfish.
###