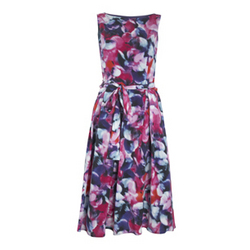 London, UK (PRWEB) October 6, 2010
Blackberry season is in full swing: allotments, hedgerows and gardens all over the country are bursting with plump, juicy berries that make the buying of pudding largely unnecessary (but the eating of it unmissable). Who wouldn't prefer to push aside a few brambles to avoid the thorns than to navigate the interminable queues of the supermarket?
If you want to avoid the thorny issue of what to wear now that the temperature is no longer reaching balmy midsummer heights, Laura Ashley's I-Spy collection is the answer - with its rich prints, luscious berry tones and heavier fabrics, which are not only better suited to dropping temperatures but also irresistibly figure-flattering.
The women's dresses in the I-Spy collection will make an ultra-feminine impact at any gathering: luxe satin shifts in vibrant floral prints of deep pinks and purples, or blurred flowers on a pared-down 50s-style sleeveless dress with a waist-enhancing side tie. Those wishing to opt for less colour will look effortlessly striking in the Floral Shard print dress which features a subtle grey and purple floral print overlaid with a cut glass effect, while the splash print sleeveless dress uses a grey floral print on a soft drape sleeveless dress to fabulously elegant effect.
These prints are mirrored in a handful of skirts, which can be paired with various tops and blouses in the collection, offering the versatility of a two-piece outfit and making the collection as well suited to the office as to a formal or smart occasion.
Of course, cooler weather means that knitwear becomes as essential for warmth as for style, and the I-Spy collection has a perfect choice of cardigans and boleros to complete this collection's look - think rich purples, deep pinks and gunmetal greys with eye-catching details like pleated sleeves, ruffles, frill trims, beading and ribbons.
Perhaps best of all is the fact that the UK's autumn and winter are more reliable, weather-wise, than its summer - meaning that items from the I-Spy collection are guaranteed to be worn throughout the season, making them investment pieces that you can buy now and wear well into the new year.
Despite boasting a similarly deep, vivid hue to colours used in the collection, blackberries certainly can't lay claim to this sort of longevity - Michaelmas falls on September 29th, within a few days of the beginning of autumn and is, according to legend, the day that the devil spits on the remaining fruits, making them too shrivelled and bitter to eat. So while you may need to venture to the shops once more for pudding, at least you'll have the perfect outfit for occasions for months to come.
-ENDS-
For more information please contact:
Laura Ashley PR Team
0207 880 5100
About Laura Ashley
Laura Ashley is one of the UK's leading retailers, with over 225 stores in the UK and Republic of Ireland, plus an expanding international business offering stylish, high quality, great value women's clothing and home furnishings. In the last financial year Laura Ashley sales were £268.4 million.
As a much-loved British heritage brand Laura Ashley, founded in 1953, provides a source of design-led items, good-quality yet accessible fabrics, wallpaper, furniture, lighting, home accessories and women's fashion.
The company also offers an excellent level of services including an array of bespoke options for the home, including made to order upholstery in a choice of over 100 fabric options, made to measure curtains & blinds and a comprehensive design service.
Laura Ashley has growing franchise operations all over the world, including the Far East, Australia, Scandinavia and South America, as well as increasing numbers of licensing projects for products including carpets, eyewear, scarves and bedlinen.
In addition to an increasing portfolio of store Laura Ashley also offers a mail order service and internet sales at http://www.lauraashley.com
###