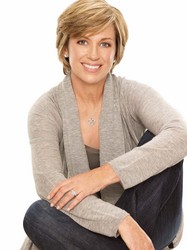 I created Love, Help and Hope to offer customers a line of beautiful jewelry that has a purpose.
(PRWEB) October 7, 2010
Beryl Raff, Chairman and Chief Executive Officer of Helzberg Diamonds, announced today that the company, a national retailer of diamond and gemstone jewelry, has entered into an exclusive agreement with Olympic gold medalist Dorothy Hamill to market a fine jewelry collection that will bear her name and provide a charitable contribution to Susan G. Komen for the Cure®.
The Love, Help and Hope jewelry Collection by Dorothy Hamill combines Ms. Hamill's love of jewelry with her concern for a cause that is very close to her heart. "I have always had a passion for jewelry and I feel it is important to be able to give back. I created Love, Help and Hope to offer customers a line of beautiful jewelry that has a purpose. As a breast cancer survivor myself, I know how devastating a diagnosis is," says Hamill.
Beryl Raff explained, "There are many, many important causes that deserve support but with Dorothy's personal connection to breast cancer, the outstanding work being done by Susan G. Komen for the Cure and the tremendous number of people affected by this disease, we felt this was the right cause to benefit from the launch of this product."
"Over the past 30-years, significant advances have been made in the fight against breast cancer, but there's still work to be done when somewhere in the world, someone dies of the disease every 69 seconds," said Katrina McGhee, EVP and Chief Marketing Officer of Susan G. Komen for the Cure. "This fight is personal for so many of us and Komen is grateful to have the support of Helzberg Diamonds and Dorothy Hamill."
The Love, Help and Hope collection by Dorothy Hamill, will be available exclusively at Helzberg Diamonds stores and online at Helzberg.com beginning in early October. Items in the collection will range in price from under $80 up to $2000.
About Dorothy Hamill
Dorothy Hamill is the Gold Medal winner of the 1976 Olympic Games. Following her victory in Austria, she went on to win the World Championships in Sweden. Her fluid skating, marvelous interpretation of music, and great athletic ability allowed her to charm more than just the judges, making her known as "America's Sweetheart." She has won a total of five World Professional titles, has had an unprecedented four ABC prime time specials produced in her honor, and spent eight years touring with the Ice Capades.
Dorothy was inducted into both the Olympic Hall of Fame and the Figure Skating Hall of Fame. She won an Emmy for her starring role in the on ice production of "Romeo and Juliet." In addition to her accomplishments on the ice, Dorothy was the first recipient of the Stars of Madison Avenue Award for her continued roles of successful advertising campaigns. In 2007, she released her memoir entitled "A Skating Life: My Story" from Hyperion publishing, which made the NY Times Best Seller list. On September 10, 2010 she was the opening speaker at the prominent "Stand Up To Cancer" event which was presented on all major networks.
About Helzberg Diamonds
Helzberg Diamonds ®, a retail and online jewelry store focused on customer service, was founded in 1915 and has over 230 stores nationwide, featuring a wide selection of fine jewelry, diamond engagement and wedding rings, precious gems and watches. Helzberg Diamonds takes pride in its history of offering exceptional value, exclusive designs and timeless jewelry. Helzberg Diamonds is based in North Kansas City, MO., and is part of Berkshire Hathaway, Inc. family of companies. For locations nearest you call 1-800-HELZBERG (800-435-0237) or http://www.helzberg.com
About Susan G. Komen for the Cure®
Nancy G. Brinker promised her dying sister, Susan G. Komen, she would do everything in her power to end breast cancer forever. In 1982, that promise became Susan G. Komen for the Cure® and launched the global breast cancer movement. Today, Komen for the Cure is the world's largest grassroots network of breast cancer survivors and activists fighting to save lives, empower people, ensure quality care for all and energize science to find the cures. Thanks to events like Komen Race for the Cure®, we have invested more than $1.5 billion to fulfill our promise, becoming the largest source of non-profit funds dedicated to the fight against breast cancer in the world. For more information about Susan G. Komen for the Cure, breast health or breast cancer, visit http://www.komen.org or call 1-877-GO KOMEN.
###