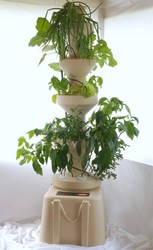 This system will fundamentally change the way we grow healthy food and help others
Stuart (PRWEB) October 7, 2010
Sustainable Garden Supply, Inc. (SGS) recently introduced its revolutionary new aeroponic growing system, Airgrown. Airgrown is a patent-pending vertical aeroponic "tower" that operates in a closed-loop, "green" and sustainable environment. Safe, green, and sustainable, this innovative growing method produces wholesome and nutritious food fast. The Airgrown system is modular and ideal for either home gardeners or commercial growers. Airgrown offers a new way of growing vegetables, herbs, fruits and even flowers.
A non-traditional means of gardening, the Airgrown system is self-contained, grows produce abundantly, reduces or eliminates the need for herbicides, pesticides and fungicides and is 99% water efficient. Here's how it works. A vertical "tower" sits on top of a reservoir that contains a water and plant nutrient solution.
The solution is then misted in timed intervals directly on the plant's roots. The tower has dedicated "plant sites" which allows for 30 plants to be grown in a single tower. Since neither dirt nor growing mediums are used, there is nowhere for weeds to grow. Spraying with herbicides is no longer necessary and no toxic residues are left on the produce. The produce growth cycle is up to 45% faster, and the harvest is more flavorful and fragrant.
The commercial application for the Airgrown system has also piqued the interest of commercial growers who typically grow in greenhouses and shade houses. The commercial towers are much taller and hold up to 60 plants each, a design that maximizes the use of vertical space. With commercial towers, 9,700 plants can grow in the same area that grew 2,500 plants in the ground. SGS has recently earned the USDA "Certified Organic" seal of approval for its produce. A farm field must be free of toxic synthetic pesticides and fertilizer for at least 3 years before a certified organic crop can be grown on it, but using the SGS towers will eliminate this requirement. Commercial growers can earn the "Certified Organic" designation for their produce much faster, often in a matter of weeks.
Since the system is self contained it can easily be deployed anywhere.
"Humanitarian foundations like the Rotary Club of Stuart-Sunrise was one of the first foundations to truly understand the benefits of the Airgrown system and is looking to install the tower systems in third world countries," explains Frank Betoulaud, Sustainable Garden Supply's CEO. "By growing vegetables in towers, disaster and hunger stricken areas could become self-sufficient in a matter of months as opposed to years. This system will fundamentally change the way we grow healthy food and we help others." Betoulaud continued.
http://www.sustainablegardensupply.com
###