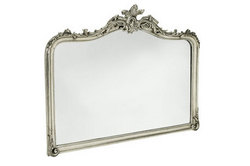 London, UK (PRWEB) October 11, 2010
Few things can make a house feel smaller and more cramped than being back indoors after months spent playing, eating and relaxing in the garden once the summer ends. Autumn equals cosy afternoons and evenings inside, yes - but it can also equal something akin to claustrophobia if a home is not cool-weather friendly.
One of the easiest ways to create a feeling of more space in a home is with the addition of a mirror. Positioned opposite decorative elements like floral arrangements, or feature walls covered in luxe wallpaper they'll double the impact and make any room seem larger than its actual dimensions.
With its ornate frame and impressive size, the Lucia from Laura Ashley's vast range of mirrors will be the perfect addition to any living space or hallway, lending the room a sense of grandeur, while the period elegance of the Balmoral, complete with antiqued brass fittings, will not only increase the sense of space, but also add a stylish accent to any room.
The nights are now drawing in unmistakably earlier - so to maximise the days, it's a good idea to try positioning a mirror opposite a window or other source of natural light. Laura Ashley's constellation mirror, with its joyous sunburst design and burnished bronze finish will conjure up images of brighter days, while the impressive proportions of the Garratt Mirror, as well as the warm chestnut finish of the stained birch wood used for its frame, will add depth, light and space to any room.
As the nights get chillier, fireplaces are likely to become the focal point of the room: think flickering flames, inviting warmth and the irresistible allure of firelight. Laura Ashley's range of overmantel mirrors help to increase this impact, whether you choose the vintage charm of the Bramley, the opulence of the Patricia or the more contemporary, clean lines of the Venetian-style Seriana.
After all, there's much to love about autumn - crisp days, changing colours, and evenings spent curled up on a pile of cushions with the curtains drawn against the chill - but one definitely wants to feel cosy, rather than cooped up, inside.
For more information please contact:
Laura Ashley PR Team
0207 880 5100
About Laura Ashley
Laura Ashley is one of the UK's leading retailers, with over 225 stores in the UK and Republic of Ireland, plus an expanding international business offering stylish, high quality, great value women's clothing and home furnishings. In the last financial year Laura Ashley sales were £268.4 million.
As a much-loved British heritage brand Laura Ashley, founded in 1953, provides a source of design-led items, good-quality yet accessible fabrics, wallpaper, furniture, lighting, home accessories and women's fashion.
The company also offers an excellent level of services including an array of bespoke options for the home, including made to order upholstery in a choice of over 100 fabric options, made to measure curtains & blinds and a comprehensive design service.
Laura Ashley has growing franchise operations all over the world, including the Far East, Australia, Scandinavia and South America, as well as increasing numbers of licensing projects for products including carpets, eyewear, scarves and bedlinen.
In addition to an increasing portfolio of store Laura Ashley also offers a mail order service and internet sales at http://www.lauraashley.com
###